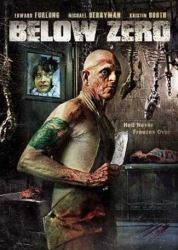 Los Angeles, CA, August 20, 2012 --(
PR.com
)-- Inspired by true events, Below Zero is a terrifying tale that will have you guessing until the final chapter. Trapped in an abandoned slaughterhouse, a desperate screenwriter (Furlong) paralyzed by writer's block is tormented by a horrific serial killer (Berryman) of his own creation. Locked in a freezer, he sinks into a claustrophobia-induced paranoia, where he can't distinguish what is real from what is written, with his life hanging on every page.
"I call this film an autobiographical horror," says writer/producer, Signe Olynyk, who struggled with her own case of writer's block. "You've heard of method acting? You could say I'm a 'method writer'." In order to complete the script, Olynyk arranged to have herself physically locked in the meat freezer of an abandoned slaughterhouse. After camping out for five days, she emerged with the script for Below Zero.
"The film is extremely suspenseful. More of a thriller, than a horror," adds producing partner, Bob Schultz. "As producers, we wanted to create a film that would appeal to horror fans, but also capture a mainstream audience and bring something new to the genre." Filmed entirely at the same location as where the script was written, Schultz credits Olynyk for writing the script to be "...a cool, twisty story within a story, within a real-life story."
About Twilight Pictures
Twilight Pictures is a production company with offices in Canada and Los Angeles. Led by producing partners Signe Olynyk and Bob Schultz, the duo has been developing and raising finances for an impressive slate of 'smart' thriller and horror scripts in the million-dollar budget range with the intention to create internationally successful films for both domestic and foreign markets. The team are also founders of the highly regarded 'Great American PitchFest', an annual screenwriting conference held each June in Los Angeles, with nearly 2,000 writers attending from around the world (www.pitchfest.com).
For more information about this film, please visit
www.belowzeromovie.com