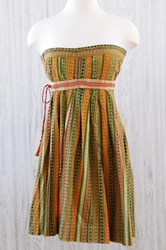 Portsmouth, NH, June 29, 2007 --(
PR.com
)-- Serendipity is a place where women and girls of all ages have fun shopping because they have these fashion styles you love. Now with the opening of their new online store, girls of all ages can shop there from anywhere in the world. They recently unveiled their new online store at http://www.serendipitynh.com.
The new online shopping area has a full checkout system, accepting all major credit cards and displays a categorized changing inventory of pants, tops, dresses and skits and other accessories. It also features sale items and offers gift card purchases.
Call it what you will: Bohemian, Boho Chic, Hippie Chick… the hot style that's in right now is all about free-spirited, feminine, and eclectic clothing and accessories. The resurgence of Bohemian fashions as the latest popular style is due thanks in part to actresses Sienna Miller, Mary-Kate Olsen and Lindsay Lohan. Rich colors and flowing fabrics are the key components to achieving this style. Boho Style Clothing tends to be pretty, elegant, graceful and yet very comfortable.
What's best about this style is that there's plenty of room to be creative. Mixing fabrics, colors, patterns and accessories is what this fashion is all about.
One of the features of this fashion movement is the tunic. Its popularity is due in part for it's flattery of our problem areas like the waist and hips. This makes it a fashion hit with women of all sizes, including plus size women. Tunics have been raved about for their comfort, elegant designs, and most of all its versatility, even as plus size womens clothing!
Serendipity for women's clothing in unusual, trendy bohemian fashions, fun and functional basics, accessories, jewelry and gifts from around the world. They have beautiful women's clothing and apparel, jewelry and accessories in an eclectic mix of fashion styles that will reflect how you feel each day, whether boho-chic, bohemian, pretty, hip or hippy, trendy, funky, relaxed for yoga, ready for work, or in the mood for love. You'll find favorite labels on their women's clothes like Free People, Petit Pois, Green Dragon, Nallie & Millie, Hanky Panky and more.
They also have wonderfully comfortable clothing that you can wear to your Yoga class, including yoga pants, tees, hoodies and tanks, but it's so pretty you can wear it around town as well.
So shop online at
http://www.serendipitynh.com
or if you're in the area, make a stop to whimsical, feminine boutique in person in beautiful downtown Portsmouth New Hampshire. Serendipity is centrally located among many unique and interesting shops at 41 Pleasant St across from the old Customs Building.
###