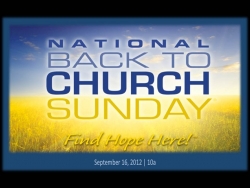 Temecula, CA, September 11, 2012 --(
PR.com
)-- "Back to Church Sunday," part of a national movement of churches across America, will be held at TrueVine Pentecostal Church in Temecula at 10:00am Sept. 16. Everyone is welcome to attend.
National "Back to Church Sunday" (www.backtochurch.com) is an initiative that is "Inviting America Back to Church." It seeks to reach the "un-churched" and "de-churched"—people who once attended church, but don't any more—and invite them to return for a special Sunday. Back to Church Sunday was launched four years ago in response to a survey of 15,000 adults in the United States. Results showed a personal invitation from a family member would prompt 67 percent of Americans to visit a church, and 63 percent said an invitation from a friend or neighbor would cause them to attend a service.
"I enthusiastically support Back to Church Sunday because it is an opportunity to welcome home the prodigals - which delights God."– Tom Durrance, Lead Pastor.
Since its inception, National Back to Church Sunday participants have invited more than five million family members, friends, and neighbors to their churches.
About 14,000 churches are expected to participate this year, inviting more than two million visitors.
The American Religious Identification Survey showed that 83 percent of American adults identify themselves as Christians. In contrast, another survey by the Barna Group indicated only about 20 percent of Americans attends church on any given Sunday. Back to Church Sunday's goal is to invite or re-invite America to rediscover church.
"Back to Church Sunday" has an interactive Facebook page (www.facebook.com/backtochurch) and a roster of participating churches on the Back to Church website at BacktoChurch.com/find_a_church.
TrueVine is a Pentecostal church located at 28780 Old Town Front Street, Suite D5 in Temecula. For more information, go to www.visittruevine.com or call 951-693-5956.