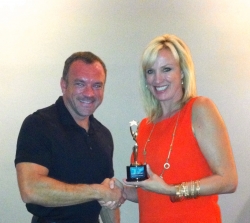 Oklahoma City, OK, September 18, 2012 --(
PR.com
)-- Darian Woolbright, Broker/Owner of ShopForAHome.com was honored Wednesday, September 12 at the Annual Meeting of the OKC Metropolitan Association of REALTORS for her innovative and creative development of the most current technologies available today.
The Best Use of New Technology Genny Award regionally recognizes the one person in the industry that has done an outstanding job of bringing the real estate industry into the 21st century with the newest technology available.
Using the latest available hi-tech information, Woolbright has developed an on-line business that reaches customers at every level and through every technology media currently available today. Because today's real estate shopper is so mobile and tech savvy, Woolbright has been able bring homebuyers and homes together faster, easier, and more successfully than ever before. By using the mobile phone app available for both iPhones and Androids, home buyers can search and access critical information about any home listed in the MLS available for sale, including price, size, and number of bedrooms, then locate it on a map.
ShopForAHome.com is currently serving the greater Oklahoma City Metropolitan area and the greater Atlanta Metropolis.
To download the free ShopForAHome.com real estate app, enter the search term ShopForAHome.com in your app store.
About ShopforAHome.com
ShopForAHome.com was created by Darian Woolbright, a licensed real estate broker with over 10 years of real estate experience. In that time, she has closed over 1000 real estate transactions. ShopForAHome.com's goal is to connect prospective homebuyers with their dream home in a quick and professional manner.
ShopForAHome.com has agents who specialize in Green Homes, Luxury Homes, Foreclosures/Short Sale, New Homes, Investment Properties, Commercial, Land, Business Brokers, International experts, First time home buyers and Relocation Specialists.
More information is available at ShopForAHome.com, by calling 405.840.2690, or email at Info@Shopforahome.com.
Photo Cutline: Darian Woolbright accepts her Genny Award from David Dobson, Chair of GenNext Committee of OKC Metropolitan Association of REALTORS.