Don Godwin Knows That Creative Thinking Can Help Reach Settlements in Tough Divorce Cases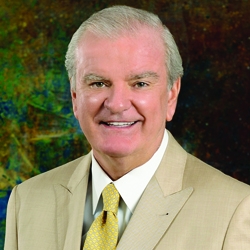 Dallas, TX, October 11, 2012 --(
PR.com
)-- Godwin Ronquillo PC, the noted Texas trial and appellate law firm, with offices in Dallas, Houston and Plano, is continually looking for ways to enhance its clients' interests in divorce settlements according to the Firm's Founder, Chairman and CEO, Donald E. Godwin.
Don Godwin explains, "There is no question we always seek the best outcome for our clients in the shortest possible timeframe. The exciting part of our continuing assessment of our efforts and successes in this regard is revealing how creative thinking can enhance the process and sometimes make the difference in reaching a settlement in the shortest time possible.
"Our clients look to us to provide insight and out-of-the-box ideas and suggestions about how to best help them resolve their divorce cases. There is no cookie-cutter approach that will work in every case and attempting to manage the client's expectations will definitely play an important role in the outcome of the litigation."
Marilea Lewis, head of the Family Law section of Godwin Ronquillo added, "We study these extraordinary cases to learn how to potentially achieve breakthroughs when both sides in a divorce are deadlocked. Don has significant experience and insight into these situations and the case studies give our Family Law attorneys vital tips on how to deliver the highest quality of service to our clients which is our number one priority."
Don Godwin continues, "Creative thinking in high-stress divorce situations doesn't come easy to every attorney and requires a high degree of focus and discipline. I suggest to our Family Law attorneys not to wait for deadlocks, but instead to look ahead and act early enough so that creative ideas will be better received and have a chance to work. Our commitment to finding the shortest route to divorce settlements is a philosophy we impart to all our Family Law attorneys."
Donald E. Godwin is considered one of the most respected and tenacious trial lawyers in the United States. For nearly 40 years, Mr. Godwin has tried significant jury cases in courts throughout Texas and across the nation. He has the ability to translate complex matters of law and fact into easily understandable language for courts and juries. Don's practice covers a broad range of areas, with an emphasis on complex litigation, including oil and gas, environmental, fiduciary duties, will contests, major family law disputes and business torts. He is the Lead Trial Lawyer for Halliburton in connection with all civil litigation and investigations concerning BP's Macondo well blowout in the Gulf of Mexico.
Additionally, Mr. Godwin was the lead counsel for Halliburton in its landmark asbestos and silica litigation, negotiating the global settlement of Halliburton's approximately 382,000 asbestos claims throughout the United States. In addition to being recognized as a leading trial lawyer in the United States, Don has also earned the reputation among corporate executives, their legal departments, and other highly visible individuals as a master negotiator when risks are substantial and the future and successes of such clients are on the line.
Donald E. Godwin is Board Certified in Civil Trial Law by the Texas Board of Legal Specialization. He received a J.D. from Southern Methodist University Dedman School of Law in 1973, an M.S. in Accounting from Memphis State University in 1970 and a B.S. from the University of North Carolina in Wilmington in 1969. Reflecting the standard of long-term excellence established in his legal practice, he has been selected by his peers for inclusion in The Best Lawyers in America® 2012 and 2013 (Copyright 2012 by Woodward/White, Inc., of Aiken, SC).
Founded in 1980, Godwin Ronquillo PC is a mid-sized, Texas-based trial and appellate firm with a national practice. With offices in Dallas, Houston and Plano, Godwin Ronquillo represents Fortune 500 and middle-market industry leaders in Mission Critical Litigation® throughout the United States. To learn more, visit the Firm's website at http://www.godwinronquillo.com.
For more information please contact:
Edward Sothcott
Godwin Ronquillo PC
214-939-8626
ESothcott@GodwinRonquillo
www.GodwinRonquillo.com
Contact
Godwin Ronquillo PC
Ed Sothcott
214-939-8626
www.godwinronquillo.com

Contact