FinSer Uses Storage Made Easy Cloud Service Broker with RackSpace Cloud Storage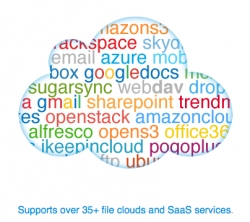 London, United Kingdom, November 02, 2012 --(
PR.com
)--
FinSer
, a financial services company, based in San Antonio, Texas, today announced with
Storage Made Easy
its use of the
SME Cloud Service Broker
dedicated appliance for managing its
RackSpace Cloud Storage
.
The Cloud Service Broker from SME is hosted on a dedicated Linode instance for FinSer and provides FinSer with a dedicated Private Cloud 'broker' for its RackSpace Cloud Files.
The broker is optimized for dealing with large volumes of Cloud Files from more than 35 different vendors, of which RackSpace is one. The Storage and SaaS clouds can be used individually or different storage or SaaS clouds can be federated and managed through a unified view.


The Cloud Service Broker solution provides a
Cloud File Server
that adds governance and audit features for all files as well as sophisticated sharing and permissions control, including single sign-on integration with
Active Directory
. The SME solution encompasses client access for Windows, Mac Linux on the desktop and BlackBerry, Windows Phone, Android and iOS on mobiles/ tablets. As all file access can be controlled and audited through the service broker, desktop and mobile access can be controlled by the Cloud Administrator ensuring that
Bring Your Own Device
(BYOD)-type policies can be implemented.


Bernhard Zoellich, Sr. VP of Software Development at FinSer, commented on the reasons for choosing the solution. "While there are many cloud storage providers in the market place, only a very limited number of vendors provide the tools to manage a cloud storage environment efficiently and with quality tools. After researching the market place, we selected SME as our vendor because of the quality and cost effectiveness of its tools. The hosted solution provides us with the dedicated management platform needed to efficiently manage our cloud storage solution."
Jim Liddle, CEO of Storage Made Easy said, "We are happy to welcome FinSer as a customer of our on-premise, dedicated appliance hybrid Cloud Service Broker and Cloud File Server platform. I'd like to extend my thanks to FinSer and Bernhard for his foresight and willingness to work with us to highlight his use case. We plan on publishing more use cases to demonstrate how large our footprint has become."
About FinSer

FinSer Corporation is a financial service company providing Investment Portfolio Accounting and Interest Rate Risk management services to community banks in the United States.
About Storage Made Easy

Storage Made Easy provides a cloud service broker platform and related services either as SaaS or a hybrid on-premise solution. Storage Made Easy unites cloud and data center services into a single environment, guaranteeing file access no matter the location or device while providing the highest levels of management, security, compliance, audit, and access services.
Storage Made Easy is wholly owned by Vehera Ltd., private London-based limited company. Vehera has offices in the United Kingdom, Ukraine, and Moldova.
Contact
Storage Made Easy
Ana Foncea
0044 709-220-7207
www.storagemadeeasy.com

Contact