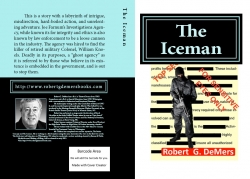 Wilmington, NC, November 05, 2012 --(
PR.com
)-- The Second Novel in a Series
Readers and fans of his first novel, "The Stolen Concept," now have available to them, "The Iceman," his second novel. Reviews for his first book such as: ("Stolen Concept is a captivating blend of action, romance, and drama. This book is a complete page-turner. The characters are realistic and interesting. There is no choice but to be drawn to them and want to stick with them 'til the end. There are exciting twists in the plots which always keep the reader guessing. Robert Demers is a truly exceptional teller-of-tales." - Hepburn. And: "I am not much a fiction reader, even less a crime/murder/mystery connoisseur, but "The Stolen Concept" by Robert G. DeMers lured me in and had me hooked." - Little Debbie) inspired him to write the second book. Mr. DeMers said, "Reaching out to the fans who have reached out to me, and doing it so that finding, purchasing, and affordability of books is easy and pleasurable is a goal I have achieved through ebooks. Of course, I will continue providing my tales in paperback as well."
Robert G DeMers, the author of "The Iceman," said, he looks forward to hearing from his readers. He qualified this statement by adding, "I would like to receive both good and critical comments from my readers and fans. These remarks will help me please my followers when crafting my next novel."
Synopsis: A labyrinth of intrigue, misdirection, hard-boiled action, and unrelenting adventure. Joe Farnum's Investigations Agency was hired to find the killer of retired military Colonel, William Knoels. A deadly government agency, its existence only known to a few as the "ghost agency" is out to stop them.The ordeal reveals how little the investigators knew about each other or themselves, and creates life-long bonds of respect and friendship.
Author's Bio: Robert G. DeMers has lived in Wilmington, NC for the past twelve years, having moved there from Winston-Salem. He was raised in the Saratoga Springs, NY area. He ha a B. A. in theatre from UNC-Greensboro and a B.A. In Special Education from UNC-Wilmington with a concetration in Behavioral and Emotional Disorders.
He studied play writing under Alan Cook (East of Eden) while at UNC-Greensboro, and his murder/mystery/comedy play, Murder Was Called For was produced by the Montage Ensemble Showcase (Nathan Freeman) at the Artistic Studio Theatre (Janice Price) in Winston-Salem, NC.
Mr. DeMers has completed two mystery novels and is working on a his third mystery using the same characters who were in the first two novels. The background for the third novel will be Wilmington, NC where he conducted a writers workshop hosted by Barnes & Noble. "The Iceman" is available in paperback and ebook from Amazon.com, and in ebook from Barnes & Noble and Sony Reader.