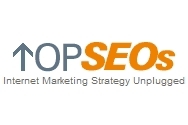 Plymouth, IN, December 05, 2005 --(
PR.com
)-- http://www.topseos.com – topseos.com, a trusted and well-respected resource for evaluating internet marketing vendors, continues to make the process of researching and selecting internet marketing and search engine optimization companies a more reliable task.
"We continually strive to pick the cream of the crop organizations in our top 30 list in the organic optimization category," says Bill Peden of topseos.com. He adds, "Our December winners for this year are the strongest companies we have identified in the market today."
The Top 30 SEO Firms Selected for December 2005 includes:
Zunch Communications, Inc. - Texas
SEO Image LLC - New York
iProspect - Massachusetts
Bruce Clay, Inc. - California
TopRank Online Marketing - Minnesota
Submit Express - Alabama
Telic Media - California
Portent Interactive - Washington
SEOValley Solutions Pvt. Limited -
Greenlight -
Publicityweb -
icrossing - New York
Zephoria - Internet Marketing Consultants - New York
IMPAQT - Pennsylvania
Reprise Media - New York
Neutralize -
Search Engine Optimization Inc - California
Bigmouthmedia.com -
Global Promoter - North Carolina
Medium Blue Search Engine Marketing -
NOEINK, LLC - Kentucky
Whittmanhart - Illinois
Cali Net - United Kingdom
SEOposition.com - North Carolina
Web Ignite Corporation - California
Promote Your Website - Texas
Search Innovation - California
MediaCo -
TraceWorks ApS -
ebasedEVOLUTION - North Carolina
topseos.com evaluates Top 30 Directory candidates based on a rigorous selection process. Each SEO firm is evaluated in terms of its:
- Competitive advantage
- Superior services and pricing
- Customer and technical support
- Response to client problems
- Innovations that set it apart from the competition
- Overall efficiency
- Overall performance
Internet marketing companies and consultants wishing to be considered for the topseos.com Top 30 Directory can complete an application by registering as a service vendor and applying for rankings at: http://www.topseos.com/option,com_register/task,providerRegister/
Companies that wish to research and evaluate internet marketing firms can easily do so at: www.topseos.com
About topseos.com
topseos.com was founded in 2002 by e-ventures and serves to provide the search engine marketing industry and companies with a single source for researching internet marketing vendors as well as a place for internet marketing and service providers to showcase their services.
###