Wealthy Are Worried About Tax Hikes, but Financial Adviser at Guardian Gold & Silver Says Gold Can be the Silver Lining
Guardian Gold & Silver now offers a Tax Diminish Exit Strategy for Investors, and now boasts it is the only Gold Investment Broker that Makes their Client Money, Instead of Just Costing Their Client Money.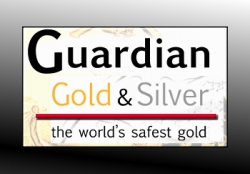 Los Angeles, CA, November 30, 2012 --(
PR.com
)-- In the wake of the upcoming tax hike most Americans are dreading what could be a sizable chunk being taken out of their income. Congress is working with the president to try and come to an agreement, but the future looks bleak. Come January 1st, 2013, many American's are going to see their taxes spike and that is something no one is looking forward to. Luckily, a new Strategy from Guardian Gold & Silver offers hope.
If you are like the majority of Americans right now, you are worried about your financial well-being. You are concerned that the decline of the Dollar is going to diminish your savings and purchasing power to levels that you simply cannot live off of, and certainly will not be able to retire on.
This is a serious concern. And the numbers all point to harsher times for more Americans. But there is something you can do.
You can invest in Gold. And not just with any company, but with a company that offers a way for you to make money off of your Investment, not just spend money to acquire it.
Why Gold?
Aaron Kutchinsky, senior trader at Guardian Gold & Silver points out, "Here is an interesting fact about gold: 1 oz. of gold buys about the same amount of goods today that it could 2000 years ago. In other words, over the vast arc of history it has never lost its purchasing power - it is eternal and dependable money, a store of value, and today gold can buy the same amount of lumber, eggs, chicken, milk, etc., that it could in the days of the Roman Republic. Or a hundred years ago - or even a hundred years from now. That's why people look for buried gold/silver treasure and not old Southern Confederacy paper money."
Who is Guardian Gold & Silver?
Aaron Kutchinsky, who is the owner and founder of Guardian Gold & Silver, describes himself as a Transformational Gold and Silver Broker because he sees his role, and Guardian's, not just as someone who facilitates a purchase of precious metals - but as vital and unique resource to light and fan the light of financial consciousness in the minds and intellects of his clients.
"It is a fact that for most successful people, virtually everyone in their financial lives is advising them to hold the course, keep doing what has worked since the 1990's… despite the 600% increase in the value of gold in the last 12 years and the 450% raise in silver value in the same time frame," points out Mr. Kutchinsky. "There is a much bigger dynamic at play here than merely investing in an asset that is going up and up – this is something fundamental about our money and we all need to understand what is really going on," he adds.
Which also gets to a bigger point about Guardian Gold & Silver:
Any precious metals company can sell you gold and silver, but all those companies have one very big thing in common: they all cost the client money. Guardian Gold & Silver is the only company in the market that makes the client money.
How Does Guardian Gold & Silver Do This in Ways No Other Company Does?
In three groundbreaking ways:
Guardian Gold & Silver positions their clients to make significant money through their exit strategy. For instance, instead of paying $280,000 in tax exposure on a million dollars of profit, they may only pay $28,000 or less when they exit - that's a possible extra $250,000 in their pocket.
In other words, Guardian Gold & Silver has developed and vetted a strategy to help clients structure their Capital Gains Tax obligation from the current 28% (which may very well increase in the future) all the way down to 1% or less, or anywhere in between – it's their choice. Guardian Gold & Silver facilitates that process as part of their unique value-added service for clients.
In addition, because of Guardian Gold & Silver's Customer Satisfaction Conviction Warranty clients will never lose a penny of value on their gold positioning.
This exclusive gold price guarantee is structured in the exact same way major banks and insurance companies hedge and protect their gold holding, and this well-proven and time-tested strategy allows Guardian Gold & Silver to offer a full refund to clients if they are not satisfied with their gold purchase 5 years from the date of purchase.
Guardian Gold & Silver also offers an Affiliate Partner Program, whereby each and every referral a client provides to Guardian Gold & Silver - should that referral become a new client - earns that client a Referral Fee on any and all business with that referred client.
This is a powerful means of not only helping friends, relatives, neighbors, and associates protect themselves and get positioned for prosperity, but it can be very very lucrative as well. Some of Guardian Gold & Silver's Affiliate Partners have earned over $20,000 in Referral Fees.
Further, this Affiliate Program in effect helps clients lower their overall cost down to wholesale level for their gold and silver because the more clients they refer the more they earn, which brings their overall net expense down for their own gold and silver holdings.
Says Mr. Kutchinsky, "The stock market (the main source of investor hope for the vast majority of investors) is exactly where it was 6 years ago. It's gone nowhere and has no real prospects of doing otherwise for the next 5 years. Not to mention the bond market, which is now in "negative return," meaning the interest earned on these traditional safe investments is less than the true rate of inflation. Guardian Gold & Silver can provide oceans of real information and data to help clients help themselves by creating and fostering genuine personal understanding of what is going on in the financial/economic world."
Through innovative thinking Guardian Gold & Silver has created a better, smarter, and the most evolutionary company in the entire precious metals industry. They protect the downside, position for the best advantage now, and they optimize for maximum prosperity and profit in the future. "Guardian Gold & Silver empowers clients to see for themselves what is really going on, happening right now, and has created a way to move forward instead of being stuck in doubt and uncertainty," adds Kutchinsky.
The members of Guardian Gold & Silver describes themselves as working financial activists, focused and mission-driven to dramatically impact client's personal and community economic prosperity and financial well-being.
They offer Vision. Strategy. Tactics. Agency.
Guardian Gold & Silver's primary goals are:
* Maximize economic prosperity for clients.
* Lead others to understanding.
* Think globally, act mutually.
* Do the right thing every time.
Guardian Gold asks the Question; Are You Ready to Creatively Engage and Change Your Financial Future?
The time is now to buy Gold, protect and build your Wealth, and put your future under warranty.
Guardian Gold & Silver
The world's safest and most prosperous gold.
1-800-621-4886
www.GuardianGoldandSilver.com
Contact
Guardian Gold & Silver
Jasmine De Mon
800-621-4886
guardiangoldandsilver.com

Contact
Multimedia
Everything you need to know to begin investing in Gold and making money off of your investment.