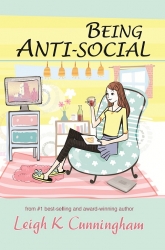 Dublin, United Kingdom, December 04, 2012 --(
PR.com
)-- Independent author, Leigh K Cunningham picked up her fifth award at the 2012 Readers Favourite book awards for her latest novel, Being Anti-Social.
"Being Anti-Social," says Cunningham, "is about being true to oneself. Not everyone enjoys social situations and a lot of people are perfectly happy staying home on their own or with their partner. Unfortunately family and friends often think there is something wrong with this and feel compelled to fix what is not broken."
Oscar Wilde is a prominent feature in Cunningham's latest work as the "mentor and life coach" for the main protagonist, Mace Evans. His quotes are dispersed throughout and offer guidance to the main character on dealing with family, friends, relationships, and social situations.
"Surprisingly, there was an Oscar Wilde quote for just about every occasion in the book," says Cunningham. "The quotes just fit, and each time it was such a thrill to find my story and Oscar's words merging. I've been a fan of his since I first read The Importance of Being Earnest."
Wilde's play also inspired the title of the book says Cunningham as did the 1999 movie directed by Spike Jonze, Being John Malkovich.
Cunningham previously won gold at the 2011 National Indie Excellence Awards in the literary fiction category for her multi-generational family saga, Rain. Rain also won silver at the 2011 Independent Publisher Book Awards (IPPY). Cunningham's two children's books won silver at the 2010 Mom's Choice Awards.
About the Author
Leigh K Cunningham is a lawyer with a career as a senior executive for a number of public companies in her home country of Australia. She has master's degrees in law (Master of International Trade & Investment Law) and commerce (Master of Commerce) as well as an MBA (International Management). Cunningham also has a law degree with honours. She currently lives in Singapore where she regularly presents at the Singapore Writers Festival. She is also a Grants Assessor for the National Arts Council.
About the Association of Independent Authors
The Association of Independent Authors (AiA) is a global membership organization representing, advancing, supporting and encouraging self-published (independent) authors. Its membership spans five continents with directors based in the USA, Asia, Australia, and South Africa.
One of the roles of the AiA is to establish and develop the Body of Knowledge (BoK) for self-publishing, which is accessible to members online in the community website at http://www.independent-authors.org.