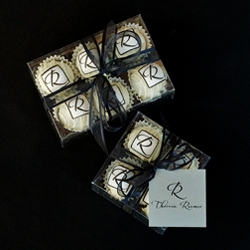 Houston, TX, December 12, 2012 --(
PR.com
)-- A new kind of "sensuality" is being unveiled at Bar 12, Saks Fifth Avenue, Houston Galleria on Thursday, December 13, 2012. Award-winning author of the book, Nude: Unveiling Your Inner Beauty and Sensuality, Theresa Roemer, will launch her collection of Signature Truffles. These are handmade truffles, with a cookies and cream center made with real cream and topped in decadent white chocolate.
Bar 12 is located on Three at Saks Fifth Avenue in Houston, next to Men's Shoes and Accessories. It offers a full bar, snack options, coffee, and now Theresa's Signature Truffles. Need a boost to keep up your shopping spirit? Just want to treat yourself to a little chocolate? Stop by Bar 12 at Saks Houston for a drink or a fabulous truffle.
Theresa is a successful fitness trainer and entrepreneur with many beauty, fitness and bodybuilding titles to her credit. So why is she introducing her signature truffles? "Chocolate makes you feel good. As long as you eat it in moderation, you should allow yourself to indulge once in a while. My intent is to make people feel good about themselves, whether I'm offering fitness training, self-esteem advice or speaking at a grief and loss seminar." Why Saks Fifth Avenue? "Because it is a designer destination. It is where people come seeking apparel and accessories that will boost their sensuality quotient. And while these shoppers are here, they can indulge in some truffles or buy them for a friend," Theresa adds.
About Theresa Roemer:
Beauty and fitness pioneer Theresa Roemer has previously owned and operated her own health clubs, mentored young girls in the highly acclaimed Barbizon Modeling Schools and her fitness talents have been utilized by a top fitness chain in the country. She has authored the Indie Excellence award-winner book, Nude: Unveiling Your Inner Beauty and Sensuality. She is an active spokesperson for the American Heart Association, Texas Children's Hospital and is a board member for Child Legacy International. In recent months, Theresa has been busy with speaking engagements on fitness and nutrition; sponsoring fundraising events for the American Heart Association; filming interviews, promoting her upcoming new line of designer candles and now launching her signature truffles.