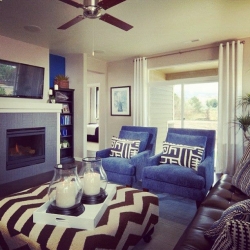 Denver, CO, December 13, 2012 --(
PR.com
)-- Taylor Morrison Denver unveils its latest new home community in Broomfield on Dec. 15, with seven spacious floor plans, scenic surroundings and the builder's elegant, connected home solution, the Interactive Home™, to anxious Denver homebuyers.
Located in the upscale community of Broomfield, Silverleaf by Taylor Morrison features dramatic elevation changes and offers views of the Rocky Mountains including Flatirons and Indian Peaks as well as the Front Range.
"Denver homebuyers have distinct ideas of where they want to raise their families and cities like Broomfield offer some of the best amenities out there," said Kip Gilleland, president of Taylor Morrison's Denver division. "Silverleaf ties all of these amenities together with thoughtful, intelligent floor plans that reflect the way Colorado families live today."
Starting in the low $400,000s, Silverleaf gives Denver homebuyers the choice of two distinct collections of homes.
The Countryside Collection provides five, inspired floor plans that range in size from approximately 2,638 to 3,534 square feet, offering Denver families up to four bedrooms, 2 to 3.5 baths and three-car garages with each home.
The Paragon Collection is even roomier, with up to five bedrooms, 2.5 to 4 baths and homes that range approximately from 3,056 to 3,685 square feet. The single-level Sapphire also offers a three-car garage while the two-story Ruby stretches to a four-car garage.
"These are some of our larger homes in Denver and they're floor plans that our homebuyers have asked us to design for them," Gilleland said. "Each home offers something special for Denver families, whether it's the gourmet kitchens of the Countryside Collection or the optional casitas offered with the Paragon Collection."
Also debuting at Silverleaf is Taylor Morrison's innovative Interactive Home™ system, which offers the use of Control4 devices in all of Silverleaf's homes.
The optional Interactive Home™ system makes it easy for Denver homebuyers to control multiple devices in their home - TVs, thermostats, door locks and DVRs - with a user interface that's simple to use, yet flexible enough to harness the most complicated electronic gadgets.
The available options and true customization of the Control4 system allows homebuyers to create connected living experiences that match and reflect their lifestyles.
"The average homebuyer is more connected than ever," said Kip Gilleland, division president for Taylor Morrison Denver. "But as the number of devices we own increases, the need to have an intelligent interface to control all of them grows. Our Interactive Home™ system allows homeowners to walk through their front door completely in control."
The flexibility of the Interactive Home™ means homeowners can monitor the front door of their Taylor Morrison home from a laptop. They can browse movies from their smart phone, then select and start the film from their phone.
Even energy efficiency is easy with the Interactive Home™. The Control4 system allows thermostats to be controlled remotely, allowing a homeowner to fine tune their home's climate from the office or a smart phone.
In addition, controls can be set to illuminate walkways at night, send emails when the garage door is left open - even turn everything off and lock the house with one touch of a button by the bedside.
"Homebuyers have been waiting for their devices and homes to merge and provide the level of connectivity that has been promised for so long," Gilleland said. "With the Interactive Home™ system, that day has arrived at Silverleaf."
For more information on Silverleaf or the Interactive Home™, please contact Becky Hunt at bhunt@taylormorrison.com or call (303) 656-7692.
About Taylor Morrison
Taylor Morrison is the largest North American privately-owned homebuilder based in the United States, as reported by Hanley Wood based on 2011 revenues. Headquartered in Scottsdale, Arizona, Taylor Morrison is a builder and developer of single-family detached and attached homes. Under the Taylor Morrison brand, the Company operates in Arizona, California, Colorado, Florida and Texas. Under the Monarch brand, the Company operates in Ontario, Canada where the Company builds and develops single-family detached and attached homes in both Toronto and Ottawa. Monarch also builds high-rise condominiums in Toronto. Taylor Morrison serves a wide array of homebuyers, including entry-level, move-up, luxury and active adult customers, through its innovative product mix.