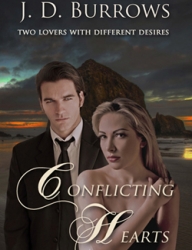 Hillsboro, OR, January 13, 2013 --(
PR.com
)-- Fiction/Contemporary Romance
ISBN: 978-0988573802
Holland Legacy Publishing
Publication Date: 11/11/12
Contemporary Romance Author, J.D. Burrows, has boldly taken her own devastating real-life experience and weaved its occurrence into a fictional tale of two lovers who meet under less than perfect circumstances.
When the couple embarks on an intimate journey of lovemaking, their relationship evolves into a conflicting set of desires. Rachel is bound by a shameful childhood that has molded her into a woman with dark sexual needs. Ian is the product of a healthy childhood and loving parents, who have taught him to respect the women in his life. When their differences threaten to tear them apart, Rachel is faced with the decision to leave her new lover or finally confront her demons from the past.
J.D. Burrows is the pen name for the award-winning historical romance author, Vicki Hopkins, who has published four other novels. Her debut as a contemporary romance writer bravely exposes the effects of sexual abuse to the romance genre. While some women fantasize being tied up and spanked by dominant men, others are longing to be released and unconditionally loved by a tender male.
The author lives in the rainy Pacific Northwest with her pesky cat who refuses to let her sleep in. She enjoys traveling to England, researching her English ancestry, and writing stories that deeply move the hearts of women.
The author can be contacted through her website at: vickihopkins.com or at contact@hollandlegacypub.com.
For more information about Conflicting Hearts, visit the official website at: conflictinghearts.com