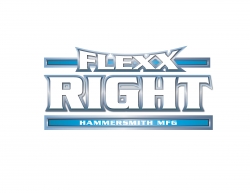 Overland Park, KS, February 21, 2013 --(
PR.com
)-- http://www.flexxright.com
Hammersmith Mfg. of Overland Park and Horton, Ks., are manufacturers of the FlexxRight®, the only flexible excavating bucket on the market today.
U.S. Patented, the Flexxright® enables construction and pipeline contractors to dig safer, prevent dangerous accidents and eliminate costly damages.
The FlexxRight® bucket is a flexible polyethylene bucket and heavy-duty backhoe and excavator attachment that resists impacts, eliminates dangerous and costly pipeline and utility damage and brings the ultimate in safety, strength and efficiency to all excavation jobs.
Better and safer than dangerous tooth buckets, the Flexxright® is available for all major brands & models of backhoes and excavators. The U.S. Patented FlexxRight® bucket brings digging safety and site production to new standards.
Dig Safer. Prevent Damages. Reduce Costs.
About Hammersmith Mfg. & Sales Inc.
Hammersmith Mfg. & Sales Inc., founded in 1964, is one of the nation's leading manufacturers of superior quality fabricated and machined products and services. Hammersmith Mfg. and Sales Inc. is the parent company of Vail Products, the leading manufacturer of aftermarket severe-duty attachments for the large construction equipment industry, and is the manufacturer of the Ergoturn©, the innovative triple-axis Welding & Parts Positioner.
Hammersmith Mfg. & Sales Inc. has facilities and offices in Horton, Holton and Overland Park, Kansas.
Hammersmith Mfg. & Sales Inc.,
913-338-0754
www.hammersmithmfg.com