Park Plaza Boston Hosts Mock Auction and Winter Menu Tasting for BiddingForGood.com
Boston, MA, February 28, 2013 --(
PR.com
)-- Over 250 Boston area nonprofit organizations and meeting planners seeking to host online auctions are invited to the Park Plaza Boston for an interactive BiddingForGood.com mock auction and winter menu sampling. The free event will be held on Thursday, February 28, 2013 from 11 a.m. to 1 p.m. in the Park Plaza Boston's Imperial Ballroom (50 Park Plaza, Boston MA 02116).
BiddingForGood.com VP Perry Allison and Park Plaza Boston General Manager Mark Anderson will greet guests before the mock auction begins, and invite them to enjoy a noontime winter menu sampling to include gourmet chef stations.
Based in Cambridge, BiddingForGood.com is a charitable e-commerce company that connects fundraisers, cause-conscious shoppers, and socially responsible businesses. Because the company features a unique platform for online auctions benefiting schools and nonprofits, the Park Plaza Boston created an event showcasing the Imperial Ballroom, the hotel's new winter catering menu, and the e-commerce company's product in an engaging format.
"We are pleased to host this creative event with BiddingForGood.com to support the city's best and brightest nonprofits and meeting planners," said Anderson. "BiddingForGood,com is a pioneer in the e-commerce category, and we are fortunate to have so many of the area's nonprofit leaders participate in this interactive and educational event." Registered guests include Community Services, Habitat for Humanity, Cross Cultural Collaborative, Community Water Solutions, AIDS Action Committee, and event planners from Michael P. Wasserman Inc.
Guests will not only use hosted laptops to learn the software and place mock bids, but talk about auction best practices and network with colleagues. At noon, the Park Plaza will treat guests to Lobster Rolls, Goat Cheese Puffs, "Shrimp Wiggle" (homemade shrimp and queso dip), and Cheesy Aged Cheddar Grilled Cheese Sandwiches with Tomato Soup, among other selections.
Located in the Back Bay at 50 Park Plaza, Park Plaza Boston is a luxury hotel conveying class and elegance, and featuring 941 finely-appointed Guest Rooms and Guest Suites and 65,000 square-feet of meeting space including the Park Plaza Castle. Since opening in 1927, Park Plaza Boston is recognized as a member of the Historic Hotels of America and a preferred Boston hotel.
Contact
Park Plaza Boston
Dawna Naylor
617-426-2000
www.bostonparkplaza.com

Contact
Multimedia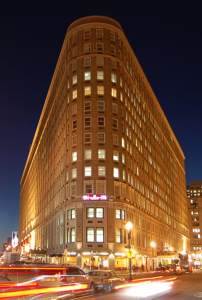 Located at 50 Park Plaza, Park Plaza Boston is the Back Bay neighborhood's premiere luxury hotel with 65,000 square feet of meeting space.