Introducing Chilly Jilly: A Wrinkle-Free Wrap Kept in Your Purse
Never again be cold in an air conditioned restaurant, theater -- and for that matter, anywhere -- simply keep a Chilly Jilly wrap in your purse.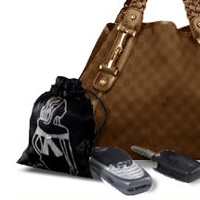 Baltimore, MD, August 07, 2007 --(
PR.com
)-- Sweltering outside, freezing inside? Inventor and designer, Jill Boehler has created a simple solution to this problem.
Do these sound familiar?
"Turn down the air conditioner"
"It's freezing in here"
"Please move my table"
"Can I have a hot drink to warm me?"
Jill Boehler was tired of becoming "high maintenance" during the summer. While dining with friends one summer evening at an excessively cold, air conditioned restaurant, she had had enough. And that's how the Chilly Jilly idea was born.
Chilly Jilly, a woman's wrap in a small convenient designer bag will eliminate the need for women to ever carry a sweater on warm summer days and nights. It is lightweight, crease-free, fashion forward and fits conveniently in any purse. Mostly, it works.
Chilly Jilly will eliminate the need for a woman to carry a sweater "in case" it is cold. Chilly Jilly is a wrap in a small designer bag that easily fits in a woman's purse. Using a fabric similar to the fabric introduced in athletic wear by companies such as Underarmour and Nike, a Chilly Jilly does not lose insulating properties and thus keeps you warm... lightweight, soft, durable and attractive.
Chilly Jilly has been featured on CNBC "The Big Idea with Donny Deutsch," Self.com, iVillage and was recently a gift to the bridesmaids at Laila Ali's wedding.
###
Contact
Chilly Jilly
Jill Boehler
443-686-1111
www.chillyjilly.com

Contact