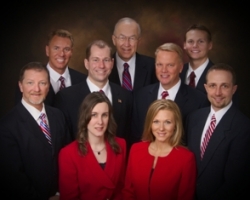 Brookfield, WI, March 20, 2013 --(
PR.com
)-- Third year, highest weight loss numbers recorded by the team of financial professionals at Rozman Wealth Management. The group consisted of all 9 associates and 2 of their spouses and in 1 ½ months they took off a total of 200 pounds. The team jokes around that they lost one whole person.
Kurt Rozman, President of Rozman Wealth Management, hired Suzanne C. Bielinski, ND & QBS of Dayspring Spa & Wellness Center in Waukesha to oversee the program. She administered a Homeopathic version of the HCG diet along with detoxifying techniques and biofeedback sessions to each individual over a 3 month period. Suzanne's personal touch and expertise were a key component to the success of the wellness program.
Each year gets more intense and the team builds on the previous year's knowledge and momentum. A person would not look at this group and think it possible to lose 200 pounds; they are fit and healthy to begin with. This year the team posted record weight loss numbers and this time, at the end of the official program, Kurt had a surprise up his sleeve. Mr. Rozman unveiled his "Leanest Winner" challenge which will entail a few different prize categories to motivate the group to stay at their new healthy weight for the next 6 months. "I saw the dramatic change in myself and everyone on our team and I wanted that to continue so I came up with a challenge which plays to our competitive nature and I balanced it with an element of support by having teams for our challenge," says, Kurt Rozman, President.
"The prizes are a great and the teams are motivated to win, it's the wellness program that never ends. We continue to learn more about our health, and what works for us as individuals; and at the same time, we work together as a team to motivate one another toward our goals," says Robin Rozman, Director of Operations. It shows great leadership by Mr. Rozman to offer incentives to help keep his team dedicated to a healthy lifestyle.
Rozman Wealth Management is located in Brookfield. They specialize in a comprehensive team based approach to defensive money management and investment planning. The Financial Advisory practice offers informative and unique workshops to the community and their clients to advance knowledge in the areas that impact financial matters. Check them out on the web:
www.rozmanwealth.com
.
About Wells Fargo Advisors
With $1.2 trillion in client assets as of December 31, 2012, Wells Fargo provides investment advice and guidance to clients through 15,414 full-service financial advisors and 3,248 licensed bankers. This vast network of advisors, one of the nation's largest, serves investors through locations in all 50 states and the District of Columbia. Wells Fargo Advisors is the trade name used by two separate registered broker-dealers and non-bank affiliates of Wells Fargo & Company: Wells Fargo Advisors, LLC and Wells Fargo Advisors Financial Network, LLC (members SIPC). Statistics include other broker-dealers of Wells Fargo & Company. www.wellsfargoadvisors.com
About Wells Fargo
Wells Fargo & Company is a nationwide, diversified, community-based financial services company with $1.4 trillion in assets. Founded in 1852 and headquartered in San Francisco, Wells Fargo provides banking, insurance, investments, mortgage, and consumer and commercial finance through more than 9,000 stores, 12,000 ATMs, the Internet (wellsfargo.com), and has offices in more than 35 countries to support the bank's customers who conduct business in the global economy. With more than 265,000 team members, Wells Fargo serves one in three households in the United States. Wells Fargo & Company was ranked No. 26 on Fortune's 2012 rankings of America's largest corporations. Wells Fargo's vision is to satisfy all our customers' financial needs and help them succeed financially.
Investment and Insurance Products:
Not Insured by FDIC or any Federal Government Agency
May Lose Value
Not a Deposit of or Guaranteed by a Bank or Any Bank Affiliate