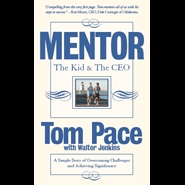 Oklahoma City, OK, August 10, 2007 --(
PR.com
)-- Tom Pace of Oklahoma City has written a compelling new book entitled Mentor: The Kid & The CEO. Based on actual events, the book focuses on the power of mentoring and being mentored in five main areas: mental, physical, spiritual, financial, and relationships. This book is rooted with deep principles, while maintaining an easy-to-read format that appeals to many.
The Kid & The CEO is a story of two unlikely friends. The kid, Tony, a young man who's been in trouble with the law several times, meets the CEO, Malcolm, by a twist of events. Malcolm, who has gained success in business and in his personal life, shares his knowledge and wisdom with Tony and over a period of time, Tony is able to achieve success for himself with Malcolm's help.
The tables are turned when Malcolm's business finds itself in financial jeopardy. Tony becomes a key figure in helping Malcolm out of his "desert." The mentored becomes the mentor.
The book is compelling from the first page. It seeks to illuminate the importance and the impact that mentoring has, not only on those who are being mentored, but also on the mentor himself. It helps the reader to realize that he or she is capable of having and being a mentor, regardless of advancement on a career path or on the path of life itself.
Pace said, "I wrote this book to give people hope… for the person who doesn't like reading or who feels they don't have enough time to read… for the business executive from L.A. as well as the kid struggling in the streets of Harlem."
Pace has spent much of his life being mentored, as well as mentoring individuals from diverse backgrounds. He is passionate about expanding his reading and mentoring program and reaches out to those in jails, schools, substance abuse programs and church. To further develop this process and continue his commitment to making the world a better place through mentoring, he established MentorHope, LLC. The organization seeks to offer knowledge and lead others to take action through the mentoring process. To learn more visit www.mentorhope.com.
Tom Pace lives in Oklahoma City and is the founder and CEO of PaceButler Corporation (http://www.pacebutler.com), which has grown into a multimillion-dollar company with a national and international presence since its inception in 1987.
Co-author Walter Jenkins of Oklahoma City is a full-time writer and award-winning speaker and realizes that his experiences, both personal and professional, can be valuable teaching tools for others. He is committed to teaching the importance of mentoring and the importance of reading.
Mentor: The Kid & the CEO is available now in hardcover or paperback from MentorHope Publishing. It can be purchased online at http://www.MentorHope.com or http://www.amazon.com, as well as your favorite bookstore.
###