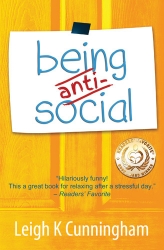 New York, NY, April 12, 2013 --(
PR.com
)-- Independent author,
Leigh K Cunningham
received her sixth award at the 2013 Reader Views Literary Awards for her latest novel, Being Anti-Social, in the Humor category.
Paige Lovitt for Reader Views says of Being Anti-Social, "Underlying this story is a strong theme about loyalty to friends and family. Most relationships do not come easily and require some work. However, at the end, especially when you have lost someone or are watching them get ready to pass on, there is a strong realization about the importance of valuing the time that you have with the people that you care about.
"While there were a lot of humorous scenes in Being Anti-Social by Leigh K. Cunningham, I also felt there were a lot of underlying messages that made me reflect on my own life. The Oscar Wilde quotes really added to this. I highly recommend reading this novel, and would especially recommend it to women's reader's groups and women in general who are approaching their middle years. They will find that they are not alone."
"Being Anti-Social," says Cunningham, "is a story about being true to oneself and resisting pressure to conform to other's expectation of what makes one happy. Not everyone enjoys social situations and a lot of people are perfectly happy staying home on their own or with their partner. Although Being Anti-Social is intended to be a light-hearted look at the life of a 38-year-old divorced woman who prefers her own company, it does address some deeper issues like death of a loved one and infidelity."
Cunningham previously won gold at the 2012 Readers' Favorite Book Awards for the same title, and gold at the 2011 Indie Excellence Awards in the literary fiction category for her multi-generational family saga, Rain. Rain also won silver at the 2011 Independent Publisher Book Awards (IPPYs).
Prior to entering the adult fiction market, Cunningham released two children's books, The Glass Table and its sequel Shards, which both won silver medals at the 2010 Mom's Choice Awards. Writer's Digest said of The Glass Table, "This is a really fresh concept with a great message. There are lots of eco-friendly stories out there, but not since Miyazaki's Nausicaa have I come across one so imaginative," and of Shards, "I liked the concept of this book; the fantasy wrapped inside a typical, hot, summer day. The mixture of conservation, anti-establishment, fantasy and a bit of Lord of the Flies makes for an intriguing plot."
Cunningham is currently working on another title for the adult fiction market. "My current work in progress is titled Rewritten," says Cunningham, "and was inspired by Franz Kafka."
Cunningham has hit the #1 spot on Amazon bestseller lists for Rain (Family Saga) and Being Anti-Social (Comic Fiction).
About the Author
Leigh K Cunningham is a lawyer with a career as a senior executive for a number of public companies in her home country of Australia. She has master's degrees in law (Master of International Trade & Investment Law) and commerce (Master of Commerce) as well as an MBA (International Management). Cunningham also has a law degree with honors. She is the founder and executive director for the Association of Independent Authors, a global membership organization representing independent authors. She currently lives in Singapore, and is a grants assessor for the National Arts Council.
About The Association of Independent Authors
The Association of Independent Authors (AiA) is a global membership organization representing, advancing, supporting and encouraging self-published (independent) authors. Its membership spans six continents with directors based in the USA, Asia, Australia and South Africa.
One of the roles of the AiA is to establish and develop the Body of Knowledge (BoK) for self-publishing, which is accessible to members online in the community
website
.
The AiA has published a comprehensive guide to self-publishing with 80+ articles from experts in their field. Self-Publishing. Publish Your Book and Avoid the Pitfalls with Advice from Leading Experts and Experienced Authors is
available in the Kindle Store
.