Local Scotsman Shouts Out to the World That Margaret River is "Famous Down Under"
Aside from its cheekiness, it states the obvious; being that Margaret River is Famous Down Under! Margaret River is now shared with the world via the web and smart phone apps, ensuring that everyone knows about this famous region and local businesses.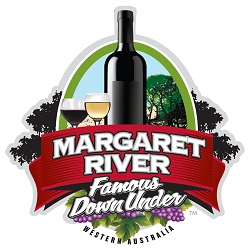 Margaret River, Australia, April 25, 2013 --(
PR.com
)-- After years of jovial ribbing of "what's under the kilt?" Scotsman Benji Leggate has decided to actually exploit the teasing for commercial benefits.
Mr. Leggate is the owner of The Margaret River Guide, a popular website and Free smart phone app which provides visitors to the region with information on accommodation, attractions, event and packages.
The website is
http://www.margaretriverguide.com.au
The website has been a huge success, boasting over 10,000 visits per month and they are just days away from 10,000 instals of their free iPhone and Android app the "Margaret River Guide" http://margaretriverguide.com.au/phone-app plus 3674 active email newsletter subscribers - all in a little over 2 years.
Mr. Leggate says "Our website and app combine to make the most comprehensive information resource for the Margaret River and Geographe Bay areas and we have visitors from all over Australia and internationally."
"People want to visit a website or smart phone app that is a one-stop-shop so that they can get all the information they need – and that's exactly what we do."
Local hotels, guest houses, restaurants, vineyards, camping grounds and fishing companies have supported the website and become an integral part of its content.
After all, given the massive traffic that the website attracts, it's no surprise that local business owners want to be part of the action.
Mr. Leggate has recently created a new tag line for his website, celebrating both his Scottish heritage and his love for the region by promoting his site via the phrase "Margaret River, Famous Down Under!"
He said "I get stirred so often when playing the bagpipes at various functions, with the question always related to my kilt and what's underneath. It's all good fun of course.
"Recently when my wife and I were brainstorming themes for my website business, we figured that given the wicked sense of humour of most Aussies, our new tagline would resonate with everyone.
"Aside from its cheekiness, it states the obvious; being that Margaret River is Famous Down Under!"
Mr. Leggate and his wife, Helen, moved to the Margaret River from Scotland in 2007 and operate a farm on the banks of the Margaret River, featuring an olive grove and health retreat.
Mr. Leggate is from a farming background in Scotland and also has a background in property investing.
He explains "When my wife and I decided to settle in Australia, we looked far and wide for places to live. As soon as we came across the Margaret River region, we fell in love with it and have enjoyed living here since 2007."
"The Margaret River Guide website concept came to me because I could see that there was no one single online information centre that provided visitors with a complete smorgasbord of all of the regions wonderful attractions and features."
"The number of participating business partners grows every month and I have been overwhelmed with the positive response from hotels, restaurants, guest houses and other attractions."
"Local businesses now recognize that if they don't market online, they will be left behind."
Whilst the region is home to 20% of Australia's premium wines, one of Mr Leggate's most entrepreneurial business partners is Darby Park Margaret River, with property manager, Vanessa Thomson being very vocal about his support for The Margaret River Guide website and iPhone app.
She says "I am always looking for forward thinking people who are prepared to step outside the box to make a difference in a competitive world and The Margaret River Guide is doing just that."
"The main benefit to date for us has been exposure for our business. I am a firm believer in companies working together and "dovetailing" off each other, the more people I tell about your product the larger your market is going to get and have a larger audience looking at your site, with the possibility of extra business for Darby Park Margaret River."
Mr. Leggate says "being a business partner with our website allows business owners to not only build their brand, but to also use direct response marketing tactics to generate instant leads and conversions. It's very simple. Through smart SEO, I drive massive traffic to The Margaret River Guide site."
"And when visitors see my various local business partners throughout the site, they can click on the appropriate business and go straight to the partners own websites or an information page, detailing all of the features and benefits of that business. The great thing for my business partners is that I take no booking fees or commissions and I give them 7 rock solid guarantees, one of which is a 100% satisfaction guarantee or your money back."
Mr. Leggate also highlights additional bonuses for local business partners.
He also provides each partner with listings on the Free "Margaret River Guide" iPhone and Android app, a QR code and mobile website.
Mr. Leggate highlighted that winter was typically the quieter months for tourism in Margaret River and the perfect time to address your e-marketing strategy for the year ahead, so he is looking forward to the next few months, when he can provide even more value to his participating businesses that are featured on his site.
Contact
The Margaret River Guide
Benjamin Leggate
0061897574569
http://margaretriverguide.com.au

Contact