BusinesSuites Opens New Executive Suite Location in Annapolis, Maryland
New Flexible Workspace Option for Entrepreneurs, Professionals and Fortune 1000 Companies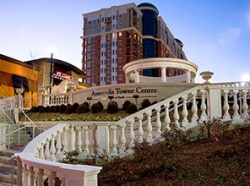 Austin, TX, April 30, 2013 --(
PR.com
)-- BusinesSuites, a nationwide operator of executive office suites, announced today that the company has opened a new office suite location in Annapolis, Maryland. BusinesSuites Annapolis is the company's seventh executive suite location in Maryland, joining existing locations in the Baltimore Inner Harbor, Owings Mills, Towson, Columbia Gateway and two locations near the Mall in Columbia.
"
BusinesSuites Annapolis
offers a range of flexible workspace options including private offices, team rooms and conference rooms so clients can choose how and when they work. This new location presents a great opportunity for entrepreneurs, professionals and employees of Fortune 1000 companies to have a professional office or virtual office presence with all the additional amenities with the additional amenities at Annapolis Towne Center," said John G. Jordan, President of BusinesSuites and Past President of the Global Workspace Association.
BusinesSuites Annapolis is located in the Annapolis Towne Centre at Parole, minutes from the Annapolis historic district and a short drive from Baltimore and Washington, D.C. Annapolis Towne Centre is an award-winning, mixed-use development with upscale dining, shopping, living and exercise options, and even hosts special events such as live music and holiday programs. BusinesSuites Annapolis is literally at the heart of this development, at the intersection of Towne Centre Boulevard and Harker Place. The center offers easy parking access and is just steps away from 24 Hour Fitness, Whole Foods, Target and a wide range of dining options, as well as easy access to Route 50.
With over 45 offices and three conference rooms, the center provides full-service, furnished Annapolis office space, complete with live phone answering, business-class Internet, premium amenities, plus access to meeting rooms and a café. This Annapolis suite provides flexible terms allowing short-term and small space users an economic alternative to the long-term financial commitment of conventional office space. For clients who travel, BusinesSuites offers the opportunity to utilize the café, conference rooms and day offices at any BusinesSuites location across Maryland, Virginia or across the nation all as part of the BusinesSuites service package. BusinesSuites Annapolis is the company's seventh location in Maryland and its 22nd location in the United States.
Annapolis is Maryland's capital city, and offers excellent options for work and play. Annapolis offers easy access to a wide range of air, road, rail and ocean transportation infrastructure, and is near the nation's largest intelligence center, Fort Meade, and its associated contractors and support services. Annapolis is also home to the US Naval Academy and is considered the Sailing Capital of America.
About BusinesSuites
BusinesSuites is a leader in the workspace-as-a-service industry providing modern executive suites, virtual office services and shared workspaces at 22 locations in Texas, Nevada, Maryland and Virginia. BusinesSuites serves professionals, entrepreneurs and employees of large companies who need a professional work environment for their business. BusinesSuites offerings include private offices, virtual offices, and project rooms, and include services such as live phone answering, phone service, Internet, high speed copier/scanner, conference rooms, and a café/lounge. All BusinesSuites services are offered on-demand with flexible terms that allow clients to focus on running their business instead of running their office.
In 2009, BusinesSuites was named the US National Winner of the Dell/NFIB Small Business Excellence Award for its strong focus on hands-on customer service backed by innovative technology. In 2010, BusinesSuites was listed among the Inc. 5000's Fastest-Growing Companies in the US.
Founded in 1989, the first BusinesSuites location was established in Austin, Texas by Luci Baines Johnson and Ian J. Turpin.
For more information, visit businessuites.com
Contact
BusinesSuites
Tina Nguyen
800-261-0120
www.businessuites.com

Contact