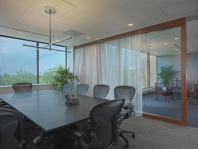 BusinesSuites is a leader in the workspace-as-a-service industry providing modern executive suites, virtual office services and shared workspaces at 23 locations in Texas, Nevada, Maryland and Virginia. BusinesSuites serves professionals, entrepreneurs and employees of large companies who need a professional work environment for their business. BusinesSuites offerings include private offices, virtual offices and coworking, and include services such as live phone answering, phone service, Internet, high speed copier/scanner, conference rooms, and a café/lounge. All BusinesSuites services are offered on-demand with flexible terms that allow clients to focus on running their business instead of running their office.
In 2009, BusinesSuites was named the US National Winner of the Dell/NFIB Small Business Excellence Award for its strong focus on hands-on customer service backed by innovative technology. In 2010, BusinesSuites was listed among the Inc. 5000's Fastest-Growing Companies in the US.
Founded in 1989, the first BusinesSuites location was established in Austin, Texas by Luci Baines Johnson and Ian J. Turpin.
For more information, visit http://www.businessuites.com/.