Buy Safe Costa Rica Changes The Way You Find Real Estate in Costa Rica
Whether looking for a permanent dwelling, a great deal on a investment property or simply vacationing in Costa Rica, Buy Safe Costa Rica makes searching simple and safe.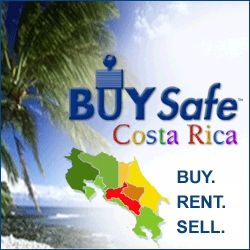 Denver, CO, August 15, 2007 --(
PR.com
)-- Buy Safe Costa Rica launches its new state-of-the-art
Costa Rica real estate
website to help people all over the world buy or rent homes in Costa Rica safely and at the best prices.
Buy Safe Costa Rica is not a real estate company. It is a company that promotes trustworthy brokers or owners and matches them up with potential buyers or renters in one easy to use website. At Buy Safe Costa Rica you can search for property for sale or
rental property in Costa Rica
with a few short clicks. The simple to use search feature allows you to target the perfect home or piece of land in your desired price range and budget every time.
"I love the country of Costa Rica and to be able to provide a quality service to the thousands of people who want to live or travel to Costa Rica is very rewarding," commented Ryan Huett, the owner of Buy Safe Costa Rica.
The website is full of easy to use features to find homes for sale in Costa Rica a free members area that allows someone to save properties to the favorites and compare them to other homes in their region and budget side by side.
Also, owners and brokers of property in the country of Costa Rica are able to upload their listings in just a few simple clicks including photos and descriptions of the property to begin reaching thousands of potential customers globally on the Internet.
The new website is also full of other valuable information and articles about the country of Costa Rica for anyone wanting to travel to that area. You can learn about the people, the regions, the beaches, the animals and many other interesting facts.
"The fact that I purchased and built a home in Costa Rica, and I have a real estate license in the United States, has allowed me to be a great asset to anyone who is not familiar or comfortable with the process of buying or renting in the wonderful country of Costa Rica. The Buy Safe Costa Rica mission is to change the way people search, find and ultimately buy and rent real estate in Costa Rica." Ryan remarked.
For more information regarding Buy Safe Costa Rica or the country of Costa Rica you can contact Ryan directly at 325.280.0868 in Costa Rica at 011.506.869.7954 or by email ryan@buysafecostarica.com.
###
Contact
Buy Safe Costa Rica
Bryce Huett
325.280.0868
www.buysafecostarica.com

Contact