XCom Global MiFi Service for Travelers Named as Finalist in American Technology Awards, Telecommunications Category
TechAmerica Foundation Presents "Best Of" Awards Recognizing Technology Products and Services Across the Technology Industry
San Diego, CA, May 09, 2013 --(
PR.com
)-- XCom Global, Inc., a leading provider of low cost wireless Internet access rental services for international travelers, has been named a finalist in the Telecommunications category for the 2013 TechAmerica Foundation American Technology Awards (ATAs). The ATAs span the technology industry, recognizing outstanding products and services like XCom Global's Mobile MiFi.
"We are honored to be named a finalist for TechAmerica Foundation's American Technology Awards," said Seiji Nishimura, XCom Global CEO. "We provide a wireless data rental service - you rent equipment and unlimited* data access - that can help save international travelers hundreds, even thousands of dollars off of standard international data roaming charges. Not only has this caught the attention and appreciation of our customers, but it is being recognized by the industry as well."
"Each year, the caliber of nominations for the American Technology Awards increases. This is a true testament to the technology industry and our power for transforming the world around us," said Shawn Osborne, the TechAmerica Foundation Chairman. "We congratulate XCom Global for their outstanding work and thank them for their contribution to the growth and innovation of our vibrant industry."
The awards are awarded on the basis of a thorough evaluation by industry experts and technology leaders.
The winners will be announced at the Technology and Government gala dinner, the premier Washington, D.C. technology networking event, bringing together hundreds of industry and government leaders to celebrate the technology industry. The Technology and Government Dinner will be held at the Ronald Reagan Building in Washington, D.C., June 20, 2013.
About XCom Global, Inc.
Headquartered in San Diego, Calif., XCom Global, Inc. is a leader in providing easy access to low cost, high-speed, wireless Internet access rental services to international business and leisure travelers. The company offers broad worldwide coverage at rates substantially below standard international roaming charges. XCom Global is a U.S. subsidiary of an established Japanese company that has been in the forefront of providing travelers with innovative wireless communications services for over 14 years. For more information, please visit www.xcomglobal.com, call 877-520-8242 or contact us at info@xcomglobal.com. In addition, get updates and travel tips by connecting with us on Facebook and Twitter@xcomglobal.
About The TechAmerica Foundation
The TechAmerica Foundation educates industry executives, policy makers and opinion leaders on the promise of technological innovation to advance prosperity, security and the general welfare. Launched in 1981, the Foundation is a 501(c)(3) non-profit, non-partisan affiliate of TechAmerica, which is the leading voice and resource for the U.S. technology industry. The Foundation disseminates award-winning industry, policy and market research covering topics such as U.S. competitiveness in a global economy, innovation in government, and other areas of national interest. It also organizes conferences and seminars to explore pertinent issues with government and industry representatives and to share the Foundation's findings. Learn more about TechAmerica Foundation at www.techamericafoundation.org.
*Subject to local wireless carrier's fair use policies.
Contact
XCom Global, Inc.
Seiji Nishimura
858-222-8242
www.xcomglobal.com
Media Contact:
Cynthia Guiang
CG Communications
858-793-2471

Contact
Multimedia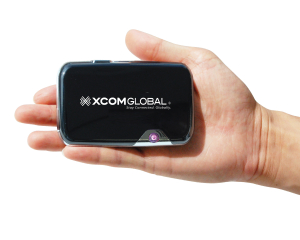 Photo of XCom Global's Mobile MiFi Hotspot rental unit that enables international travelers to stay connected wherever they are. Up to five WiFi-enabled devices can use the unit simultaneously allowing the mobile hotspot to be shared with traveling companions and saving on multiple usage charges.