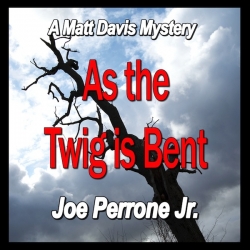 Hendersonville, NC, May 16, 2013 --(
PR.com
)-- "
As the Twig is Bent
," the first in the Matt Davis Mystery Series by Joe Perrone Jr, is now available in audio book format from Audible.com and the iTunes Bookstore. "Twig," as the author lovingly refers to his first mystery, touches on the seamier side of Internet sex chat rooms, and carries a warning as to its explicit content.
The second mystery in the series, "Opening Day," is in production, and is expected to be released sometime this summer. Plans are also underway to bring the third Matt Davis Mystery, "Twice Bitten," to the listening public by the end of August. A fourth book in the series, "Broken Promises," is soon to be released in print and Ebook formats, and will subsequently be made available in audio book format as well.
Perrone's seminal novel, "Escaping Innocence: A Story of Awakening," a poignant, coming-of-age story set in the tumultuous 60s and targeted for Baby Boomers is currently in production as an audio book, with an anticipated release date of July 15.
All of Mr. Perrone's books are available in print and Ebook format through Amazon.com (except "Broken Promises," which has yet to be released). Visit Joe's website at: www.joeperronejr.com for further information.