American West Homes #2 in New Home Sales in Las Vegas
American West Homes, a local, privately owned home builder in Las Vegas, NV is celebrating the success of being #2 in new home sales.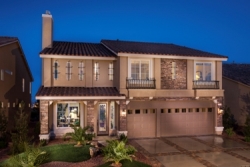 Las Vegas, NV, May 25, 2013 --(
PR.com
)-- American West Homes, a local, privately owned home builder in Las Vegas, NV is celebrating the success of being #2 in new home sales. Data in "The Weekly Traffic/Sales Watch" from Home Builders Research, Inc. which keeps track of sales from all Las Vegas home builders shows that American West is #2 in net sales for the year and has remained in this position since the beginning of 2013.
"It's a great time to buy," said Larry Canarelli, American West Company Founder, "interest rates are still at record lows and new home prices keep appreciating." Statistics released last week by the Greater Association of REALTORS® (GLVAR) show existing home prices in Southern Nevada continue to increase and are now nearly 31 percent higher than they were one year ago.
"We build the largest homes in Las Vegas and show the highest value per home in the valley," said Canarelli. "Our new home designs are incomparable to other builders. I personally put my heart and soul into every home we build. Our homebuyers see the quality and value we are known for when they walk through our homes."
Unlike many other builders, American West's homes are built one at a time. This allows homebuyers to build their home to their own specifications. Buyers are given the luxury to plot their own homes, select their homesite, choose their home's color scheme, pick their elevation and choose their front yard landscaping.
"We are a local, involved builder who understands and cares about this city because it is our home too. How do other national builders know how Las Vegas homeowners live in their homes? I know because I live here too," said Canarelli. "I personally have been living and building new homes in Las Vegas since 1984 and understand better than anyone what the families of Las Vegas are looking for in their new home design. American West has a proven track record of success and we are a builder you can trust. We are here in the same city our homeowners live in and we are here to stay."
American West is the only builder in the nation to have been awarded the ACE Award twice. The award is given by the National Homebuilders Association to the best home builder in the U.S. Larry Canarelli and American West Homes has also been awarded with the Builder of the Year by the Southern Nevada Homebuilders Association. With over 200 local and national awards, American West has been accredited with home designs on every level with national builders.
"I put my name on every home American West builds. I'm proud of that. Everyone in our company gets the thrill and understanding of what we're doing and how we're doing it. We combine unmatched value, the best locations, well-planned communities and the newest amenities to create the American West different," Canarelli said. "It all supports why we've won so many awards and why 43% of our homebuyers are repeat customers and referrals. Doesn't this sound like a home builder you can trust?"
American West is currently selling at 9 communities located throughout the Las Vegas valley. The new home designs range from 1,608 to 4,770 square feet with up to six bedrooms. For more information, visit
www.AmericanWesthomes.com
or call (702) 308-1111. Sales offices are open daily from 10 a.m. to 6 p.m.
Contact
American West
Jennifer Almeido
(702) 736-6434
www.americanwesthomes.com

Contact