Groundbreaking New Memoir Released – About a Dynamic and Successful 30-Year Gay Marriage – Way Ahead of Its Time, Yet Very Timely
Follow two men on their journey together, from 1977 to 2007, overcoming all the usual emotional baggage that everyone brings into a marriage and also the handicaps of ignorance, fear and prejudice which our country is only now beginning to address and get over. A memoir about becoming and remaining conscious, as well as joyful, honestly conflictful and growing.
Emeryville, CA, May 31, 2013 --(
PR.com
)-- Dragon & Lion Press today announced publication of a new memoir, "The Price of Eden." The book is highly relevant to all people in love – to couples of any ilk – who wish to nourish mutual love, caring and joy into a long-term flame. The story, about becoming conscious together in a good relationship, may be a particular time-saver for younger adults.
Set in rural Hawaii and in France, this true story deftly unfolds the highs and lows of a 30-year friendship and love story, in this case, between two talented, strong men. The reader takes the journey with these kind and intelligent souls, as first they avoid but then grapple with the old wounds, secrets and wrong assumptions which they (and all people in love) carry into marriage. Readers watch them learn to gladly pay the triple price for lasting love: self-honesty, respect, and risk-taking. At last, their Eden blossoms – fully – just before one partner's unexpected death.
Among the vivid reminders this story brings us: Life is beautiful, but also short – far too short – to sleepwalk through, repeating old mistakes, especially in collusion with the one you really love! An Eden can emerge around two people, but only after both their hearts have fully opened.
Available in select bookstores and at Amazon.com (6x9" paperback) –
www.amazon.com/Price-Eden-memoir-true-transformation/dp/1483906248/ref=sr_1_1
Contact
Dragon & Lion Press
Berkeley Fontaine Fuller
510-891-1947
www.dragon-and-lion-press.com

Contact
Multimedia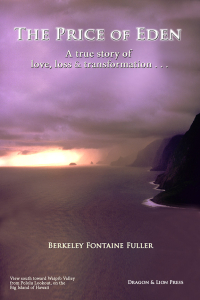 Cover of new memoir about a complex, growing and successful 30-year love story.