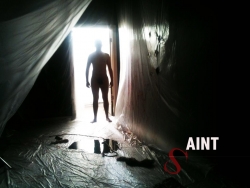 Orlando, FL, June 11, 2013 --(
PR.com
)-- Hollywood isn't the only place that the film industry is alive says Joy Ride Productions founder/ director of a new psychological thriller, Saint.
After extensive industry training, Full Sail University student, Frank Rishel, is preparing to make his feature-length debut with the story of Lance, a serial killer struggling with love and personal reformation.
"This story puts a new twist on tired topics, like addiction and self-exploration, uniting everyone who has personally struggled with or witnessed someone else battle these obstacles," says Rishel. "Nobody is perfect."
The film, which will be shot using traditional 16mm film, starts production in July with an anticipated fall release date. To fund their efforts, Joy Ride Productions is seeking donations through an Indiegogo "We Are One" crowd sourcing campaign. By meeting their $10,000 goal – a "no-budget" project by industry standards – Joy Ride Productions will be able to cover insurance and copyright expenses, as well as material costs like wardrobe and film rolls.
"For me, making this movie is about keeping independent film alive. We [filmmakers] are a community – we can achieve anything if we all come together."
As Joy Ride Productions first film, Frank Rishel hopes to bring a new light to filmmaking in Florida.
Those interested in the project can find more information at
http://www.indiegogo.com/projects/saint--4
, and all donors will receive perks, including special thanks in the credits, based on contribution level. The campaign runs through July 2, 2013.