Tacilent Corp. Chosen by KMWorld as Trend-Setting Product of 2007
The next generation of Enterprise 2.0 and Web 2.0, Tacilent's dynamic kernel (eKM) is configured without programming to provide numerous knowledge capture and analytic based "solutions" across multiple industries. Once a configuration is completed, Tacilent provides the software to create your own network of customers who then use your "solutions" based on SaaS. In short, a dynamic kernel (eKM) and Broker provides the complete environment to create, manage, and distribute solutions.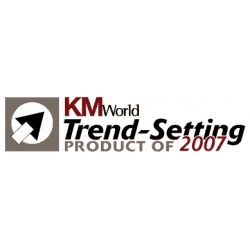 Dallas, TX, September 05, 2007 --(
PR.com
)-- Hugh McKellar, KMWorld editor in chief, said, "One of the most powerful products I've seen."
The Knowledge Workers Marketplace works with Tacilent's knowledge management and analytics kernel (eKM), which helps companies and their personnel transform information into reusable knowledge solutions. These solutions are distributed via a secure web portal, allowing users to work together in a single collaborative environment and maintain critical information and business process intelligence in a central, fully searchable repository.
Access to the web-enabled application is granted based on a user's role within an organization, allowing for several permission levels within a project or program initiative. This role-based access provides multiple levels of security and lets project members respond and perform evaluations online anytime, anywhere. All responses and evaluations are consolidated and reconciled automatically, providing the real-time reporting necessary to perform complex analytics plus an added benefit of full transparency and tracking on each project.
Tacilent's eKM eliminates countless emails, spreadsheets, faxes and documents through robust knowledge management and analytics. The Knowledge Workers Marketplace lets users distribute application solutions to others in their field.
Tacilent Corporation (TACILENT) was formed in 2004 with a vision of delivering sophisticated system solutions and consulting services for commercial and government organizations. In June 2007, Tacilent's 2.5 release was made available and has exceeded the primary focus to provide a means for people to effectively manage all the information that must be maintained in today's digital world. For more information on Tacilent, please visit www.tacilent.com.
###
Contact
Tacilent Corporation
Gaye Martin
214-257-7880
www.Tacilent.com
Ken Martin, CEO

Contact