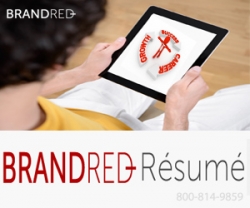 Stone Mountain, GA, June 24, 2013 --(
PR.com
)-- Over the past year, the population of long-term jobless workers has declined by more than 1 million (NCSL 2013). This is in part due to qualified graduates and career seekers making their mark in the working world and, according to the BLS (2013), the 175,000 new jobs created in May 2013 alone. As a result, Brand Red Résumé has expanded and improved its suite of solutions to help candidates prepare career marketing documents that reflect their employment readiness.
In this context, and as it extends its suite of services to also attract staffing agencies and recruiters, Brand Red Résumé has announced its rebrand from Zoomqa Résumés. The company believes the new brand identity supports its mission to effectively improve candidate employability and secures its role as a full-service career marketing and candidate development firm assisting clients nationwide.
A new brand identity for the firm is supported by the need to associate Brand Red Résumé with more than just résumé writing due to the 4.4 million workers remaining unemployed (NCSL, 2013) – the brand wanted to connect the concept of career empowerment with each of its services.
As a part of the Brand Red Résumé rebrand, clients are provided with a new suite of solutions that not only adapt to, but support their diverse career needs and goals. "The evolution to Brand Red Résumé reminds us that the pursuit of career success is more than just getting a résumé professionally written. Preparing for such a big move should be about making sure the candidate is ready in all areas," says the company's Chief Résumé Writer.
The company aims to have its new identity support the idea of making the most of every stage of candidate growth while closely aligning with what the brand is already known for – passionately assisting candidates on their pursuit of employment readiness, stability, and advancement.
Connect with the Brand Red Résumé Community:
- Facebook: http://www.facebook.com/BrandRedResume
- Twitter: @BrandRedResume
About Brand Red Résumé
Brand Red Résumé, which recently rebranded from Zoomqa Résumés, is a full-service provider of highly-personalized career marketing documentation and candidate development solutions. The company's assorted portfolio crosses all industries, encompassing brand-evident career and job-level marketing communications, personal branding assessments, career planning and management, and candidate development and review. Brand Red Résumé delivers career-focused solutions that help career and job seekers reach employment readiness and offers progressive candidate solutions to recruiters and staffing agencies nationwide.
For more information, visit http://brandredresume.com
References
Bureau of Labor Statistics Data. (n.d.). BLS - Labor Force Statistics. Retrieved June 24, 2013 from http://data.bls.gov/timeseries/LNS14000000.
National Employment Monthly Update. (2013, June 7). NCSL - National Conference of State Legislatures. Retrieved June 23, 2013, from http://www.ncsl.org/issues-research/labor/national-employment-monthly-update.aspx.