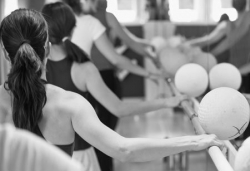 Carrboro, NC, July 02, 2013 --(
PR.com
)--
ReCharge Pilates and Barre
, the Triangle's only source for nationally acclaimed CORE BARRE™ classes is thrilled to announce the opening of their new studio in Carrboro. Located just steps away from Weaver Street Market and a half- mile from Franklin Street in Chapel Hill, the studio will feature consistent CORE BARRE™ class formats. Certified instructors will help students advance through different levels of classes as they progress in their barre practice.
CORE BARRE™ classes are based on elements of Pilates, ballet barre work, strengthening, and even power yoga sequences. In a barre class, students devote several minutes contracting and working with tiny movements in targeted areas, ensuring muscles reach absolute fatigue.
Studio owner Sloan Rachmuth, an accomplished Pilates, Power Yoga and Barre instructor, wanted to bring the Barre method to the Triangle. A resident of Chapel Hill, Sloan decided to open ReCharge Pilates and Barre in the historically charming town of Carrboro. "The vibe in Carrboro neighborhood is a perfect fit for ReCharge Pilates and Barre," said Sloan. "People are active, health-conscious and care about their community. Our studio is a perfect match for the interests of Carrboro residents and our UNC student population in Chapel Hill."
Recharge Pilates and Barre
started with the belief that studio aesthetics matter. The vibe in the ReCharge Studio is "whitewashed industrial chic," with its brick walls, mahogany floors, its exposed pipes and paper lanterns, and elevated above the Armadillo Grill on Main Street. Instead of shutting out the city, giant windows let natural light beams illuminate the main studio.
Offered at convenient times every day, ReCharge Pilates and Barre classes feature engaging music (think Muse, Haim, The Black Keys), dynamic sequences, and balance to create a one-of-a-kind exercise experience.
About ReCharge Pilates and Barre
ReCharge Pilates and Barre
strives to make pilates and barre addictive to residents of the Triangle. Our goal is to increase the awareness and the adoption of the pilates and barre technique, making it accessible to everyone through a variety of levels for beginners and more advanced students. ReCharge Pilates and Barre's physically challenging style of pilates and barre combines intensity, music, dynamisim, and balance to create a one-of-a-kind exercise experience. We view ourselves as partners with our students, our employees, our community and our environment. Recharge Pilates and Barre motivates and energizes others to achieve their own personal and professional fulfillment.