New Book by Tom Stohlgren Returns Black Hills to Native Americans
Tom Stohlgren is a scientist by day, and a novelist and screenwriter by night. His latest work of fiction, The Battle of the Black Hills, isn't just a story where the Native Americans win, they win big. Lee Levinson, of Lee Levinson Productions (New York, NY) said, "Stohlgren is a master storyteller in this modern 'Cowboys versus Indians' tale destined to be a major motion picture."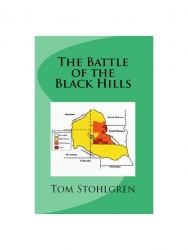 Windsor, CO, July 04, 2013 --(
PR.com
)-- "That would be fine by me," Stohlgren said. "Five hundred years of social injustice is long enough in my book. Native Americans deserve their sacred lands back."
The story begins with one of the greatest robberies of all time: the theft of the Pahá Sápa (the Black Hills of South Dakota). The novel jumps to the near future, where a new Indian reservation in Colorado has caused a groundswell of anti-Indian sentiment and a road-side bombing in Denver. Professor Wes Powell and his wife, beautiful Cheyenne chief Silver Whitehorse, are called upon again to protect a heritage. At stake is a 140-year-old court battle for tribes surrounding the sacred Black Hills. A growing unlawful militia, gun rights activists, and a slightly-fading movie star stand in their way. It's brawn versus brains in a modern "cowboys versus Indians" struggle, filled with Gatling guns and bows and arrows. Before the Native Americans can succeed, heroes must admit they're villains, and villains have an opportunity to become heroes in the second most important battle in U.S. history.
Stohlgren's other novels include: "Severed Treaty," "The New Sons of Liberty," "Off Switch," and "Draft Choice." "The Battle of the Black Hills" softcover book is available on Amazon. A Kindle version will be available in a few weeks.
Contact
Tom Stohlgren, Author
Thomas Stohlgren
970-217-4498
www.TomStohlgren.com

Contact