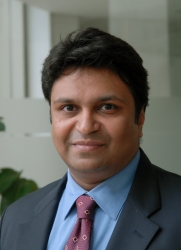 Boston, MA, July 10, 2013 --(
PR.com
)-- In honor of his personal, business and academic leadership, Mr. Harshal J. Shah is the youngest alumnus to have been appointed to the Executive Board of the MIT Sloan School of Management by its Dean, and also on the Asia Council of Phillips Academy, Andover by its Head of School. The Board and Council members consider new educational programs, faculty research, and candidate outreach activity, with the dual goals of bringing board members closer to the schools and empowering them to share MIT and Andover's stories around the world. MIT Sloan Executive Board members will also share a mission to develop principled innovative leaders who improve the world, and to generate ideas that advance management practice.
The MIT Sloan Executive Board includes The Honorable Akash Paul of Caparo Group, Mr. S. Ramadorai (Vice Chairman of Tata Consultancy Services and Chairman of Tata AirAsia India), Mr. Rafael del Pino (Chairman of Baer Partners Switzerland), Chi-Won Yoon (CEO of UBS Asia Pacific and Member of Group Executive Board), Mr. Al-Othman (Governor and Chairman of Saudi Arabia Investment Authority), Mr. Ramon Forn (Managing Director of McKinsey & Co.) and other eminent leaders. The Andover Asia Council includes Mr. Joe Bae (Managing Partner of KKR Asia), Mr. Yicheng Zheng (Chairman of CITIC Capital, China's sovereign fund), Mr. Daniel Fujii (Managing Director of Blackstone Asia), Mr. XD Yang (Chairman of Carlyle Asia), Mr. Nobu Ishizuka (Managing Partner of Skadden, Arps, Meagher and Flom), and Mr. Bill Schultz (CEO of Coca Cola Asia Pacific Ltd.).
Harshal Shah has been with Reliance Group since June 2005, where he joined as a member of its Leadership Team, and founded the Group's corporate venture capital arm and is currently, President, Reliance Capital Ltd. He was also keenly involved in strategy and implementation for Reliance Capital Ltd since 2005. Since 2010, he was elected for three terms as the President of American Alumni Association of India.
With over 15 years of experience across finance, technology, strategy and marketing, Mr. Shah has been responsible for building the corporate VC firm into one of the top venture capital firms in India. The prestigious Red Herring magazine ranked it as #30 out of 1800 venture capital firms worldwide, and it was the only corporate venture capital firm from India in that list. Mr. Shah has seed funded and built household names such as Yatra.com (he is Founder Director), India's largest online travel services company (today, a $750 million company), has seed funded Reverse Logistics, a Kleiner Perkins-funded startup, Suvidhaa, in partnership with IFC, Mitsui and Norwest Venture Partners, Wellspring Healthcare, All Green Energy, and has also had pre-IPO shares of Silicon Valley and French companies that listed on NYSE/NASDAQ. He also advised the Reliance Group on its $300 million all-cash acquisition of a San Francisco-based company and $82 million acquisition of a VPN provider based out of the UK.
Prior to joining Reliance, Mr. Shah has been an entrepreneur and has also held various positions at IBM Global Strategy (USA), Northstar Global Partners (USA), Infostakes, Inc. (USA and India), and Accenture (USA, Singapore, Hong Kong).
Mr. Shah was a Truman Gray Scholar at MIT and MIT Sloan School of Management from which he has two Bachelors' degrees in Electrical Engineering and Computer Science, and Management. He has an MBA in from The Wharton School, University of Pennsylvania, and he got his high school diploma from Phillips Academy in Andover, MA, USA. He was also ranked first among all English-medium schools, and fifteenth on the merit list out of 179,000 students in the state-wide Secondary School Certificate Examinations and was a National Merit Scholar, a Srinivas Ramanujan Math Scholar and an Andover Math Scholar. He has run two New York City Marathons and was a state-level swimming champion who represented Maharashtra at the national-level competitions.
Mr. Shah lives in Mumbai, India with his wife Urja, and four-year old son, Hrehan. Mrs. Shah is President of Setco Foundation, and she obtained her Master's degree in Environmental Science and Policy from Duke University, and Bachelor's degree from the University of Massachusetts, Amherst. Together, they enjoy spending time with their son, scuba-diving, traveling, hiking, camping, playing basketball, watching movies and listening to music.
For additional inquiries, please contact:
Ms. Raksha Singh
+91.93247.14826
rakshasingh6@gmail.com
Mr. Harshal Shah is in the US right now and can be reached at harshal@alum.mit.edu.