Toobeez Constructs Buy Back Program for Educational and Specialty Toy Retailers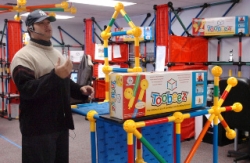 Wayne, PA, August 30, 2007 --(
PR.com
)-- Toobeez, one of the world's largest suppliers of giant toy building systems, has created a guaranteed buy-back structure. If their products do not sell within 4 months in a specialty toy store, Toobeez will buy them back. "It's a no-brainer," muses Joe Donahue, CEO and founder of Toobeez, International.
A robust seller in the specialty toy market, Toobeez has also been embraced by educators, camp directors, allied health professionals, therapists, corporate trainers and event planners. Product versatility is the backbone of the buy-back program.
"Simply put, our products sell well enough in our non-toy markets that we can afford to offer this program. If after 120 days the retailer desires to return unsold merchandise, we will take it back with no questions asked. We know we can redirect it. There is little risk to either the retailer or to us," said Donahue, who characterizes the deal as a "win-win."
About Toobeez
Toobeez is the signature product of Connectable Color Tubes (CCT), LLC, a Pennsylvania-based, privately held Limited Liability Corporation founded in 2001 by Joseph A. Donahue. Toobeez was invented as a specialty toy and is a patented giant construction building system comprised of plastic tubes and spheres. It has also become a valuable teaching & training tool for professionals in many other markets. Toobeez has been awarded the prestigious Teacher's Choice Award from Learning Magazine and Creative Child Magazine's Preferred Choice Award. For more information, please visit www.toobeez.com or call the company at 877-866-2339.
###
Contact
Toobeez International
Joseph Donahue
877-866-2339
www.toobeez.com

Contact