Author to Release Near-Future Action Thriller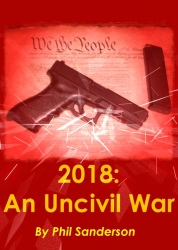 Greenville, AL, August 19, 2013 --(
PR.com
)-- 2018: An Uncivil War, the new breakout novel by local author Phil Sanderson, will be released as an e-book Sept. 2, 2013 on Amazon Kindle for $2.99. Sanderson wrote all 29 chapters (comprising four parts) of the novel as a result of the many attacks upon the 2nd Amendment by various Americans. The story describes a worst-case scenario of a major division of our nation due to the repeal of the 2nd Amendment.
The writer has written his story in a voice he hopes will make readers thirst for a sequel. The authors influences include: Ian Fleming, Tom Clancy, Vince Flynn, etc. Gun enthusiasts, patriots, and just about any other fan of action thrillers are sure to love this book. The story -- which takes place in Memphis, Tennessee -- even has a personal tie to the National Rifle Association. So members of this noteworthy group may hopefully enjoy this story as well.
Phil Sanderson is a former Marine Corps photojournalist who has written for three military base newspapers and one civilian newspaper. His articles have even been featured in Marines and Leatherneck Magazines, two of the Marine Corps most popular magazines in the era in which his stories had been released.
Phil Sanderson invites all interested readers to read samples of his work before committing to a purchase. Excerpts and a full sample of the entire first part of the novel can be found via internet sources. Interested readers can find out story details by visiting his official website at http://www.philsanderson.net. If you subscribe to his website, Sanderson will e-mail you the entire first part of his novel at no charge. Excerpts from the novel and noteworthy news events can be found in the 2018 Facebook Group: http://www.facebook.com/groups/2018anuncivilwar.
Phil Sanderson hopes he can obtain bestseller status from Amazon as a result of local support alone.
Contact
Phil Sanderson Enterprises
Phil Sanderson
334-376-0272
www.philsanderson.net
swash1967@yahoo.com

Contact