Manager Appointment in Uniastrum Bank
Roman Shoshev was appointed a general manager of the UB branch in Rostov-on-Don.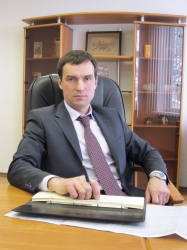 Rostov-on-Don, Russia, July 26, 2013 --(
PR.com
)-- Roman Shoshev joined Uniastrum Bank in 2006 and started working in the UB Moscow Head Office where he was engaged in development of corporate banking in the bank's branches. In 2010, Roman was appointed a general manager of the Tver branch of Uniastrum Bank. With his arrival in this capacity, the financial results of the branch improved substantially.
Following the 2012 results, Uniastrum Bank branch in Tver became one of the best regional outlets of the bank. The total loan portfolio of the branch during the previous year grew by 35%, the SME loan portfolio went up by 25%, the consumer loan portfolio in the same period grew by almost five times. The deposit portfolio of the Tver branch in 2012 increased by almost 50%, with the retail deposit portfolio growth by 1.5 times, and the corporate deposit portfolio growth by 40%.
Roman Shoshev graduated the Kazan University of Finance & Economics, with the Finance and Credit specialization. He was employed by the National Bank of the Tatarstan Republic, Central Bank of Russia and several commercial banks including AKIBANK OJSC, NOVIKOMBANK CJSC.
"Uniastrum Bank is well known in the banking services market of the Rostov-on-Don region," says Roman Shoshev. Today our key business segments are represented by retail banking including consumer lending, issue of settlement and credit cards, as well as SME lending and services. We are planning to achieve leadership positions in these segments."
Contact
Uniastrum Bank
Kseniya Chernisheva
0074957440404
www.uniastrum.ru
For more information call or write Press office:
press@uniastrum.com

Contact