Law Offices of Heath D. Harte, LLC Announce New Location
Leading Criminal Defense Attorney and Personal Injury Attorney Opens a New Office in Stamford, Connecticut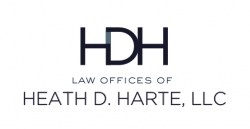 Stamford, CT, October 07, 2013 --(
PR.com
)-- The
Law Offices of Heath D. Harte
is proud and excited to announce the opening of their
new office in Stamford, Connecticut
. The new office is located at 1700 Bedford Street, Suite 102, Stamford, CT 06905. The office is conveniently located on Bedford Street between 3rd and 4th Streets in downtown Stamford.
Come by and visit the new office, with a unique collection of antique magazines featuring historical legislative events from the 1960s, including the legislative dilemma surrounding
individual privacy and desegregation
. Copies of the displayed antique magazines are kept on hand for clients interested in thumbing through them. The Law Offices of Heath D. Harte looks forward to serving clients in their new location for years to come.
About the Law Offices of Heath D. Harte
With over 25 years of experience, the Law Offices of Heath D. Harte is a
full service law firm
concentrating in Criminal Law, Personal Injury Law, Estate Planning, and Real Estate. While traditional in service and style, with smart use of experience and leveraging state of the art technology to streamline services, the firm cuts out excessive overhead usually associated with law firms. Lower overhead means that the firm can offer the same service one expects from a prestigious law firm, like the Law Offices of Heath D. Harte, at lower, more affordable costs to clients. The firm's ultimate goal is to provide aggressive, reliable and effective legal representation at an affordable price. The firm also offers creative fee structures to accommodate clients' needs, especially in today's economic climate.
Contact
To learn more about The Law Offices of Heath D. Harte locations and services, please contact:
The Law Offices of Heath D. Harte
1700 Bedford Street, Suite 102
Stamford, CT 06905
Office: (203) 724-9555
questions@hartelawoffice.com
www.HarteLawOffice.com
Contact
Law Offices of Heath D. Harte, LLC
Attorney Harte
203-724-9555
www.hartelawoffice.com
203.724.2500 fax

Contact