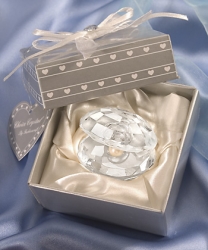 Marion, IN, September 07, 2007 --(
PR.com
)-- Yolanda's Wedding Favors is a unique online shop where customers can purchase high quality
wedding favors
, gifts, and other items for their wedding. They feature some of the most unique and beautiful gift items that a bride and groom can choose from to present to their wedding guests. Yolanda's Wedding Favors is hailed as one of the most affordable wedding favor shops there is, along with the fact that they provide excellent customer service.
Yolanda's Wedding Favors is now announcing to their customers and the public that they will beat any price, guaranteed. Yolanda's goal is to bring high quality gifts to her customers that will be cherished, at an affordable price. Many times a bride and groom will be financially stressed during the process of planning their wedding. Although they want to purchase quality, beautiful gifts for their guests and others, they just can't afford to put out a ton of money.
Yolanda's Wedding Favors understands this, and that's why this company is doing all they can to bring prices down further for their customers. "We know weddings are expensive," says Yolanda Nash, "so we want to provide a place where customers know they are getting the best prices available." This makes it a whole lot easier to shop for wedding favors. Customers are able to choose favors that will be adored, and they can spend less money.
Yolanda's Wedding Favors feature beautiful wedding favors, such as crystal wine bottle stoppers that are gorgeous. These come in many shapes, but the heart crystal wine bottle stopper is a very popular item. They also carry 'beach' themed wedding favors for customers who will be having a beach or tropical wedding. One of the most popular ones is the beach chair tea light candle place card holder. This is a whimsical and charming wedding favor that customers know their wedding guests will adore.
Another great thing Yolanda's is doing to keep the prices low for their customers is offering free shipping for orders over $95, or 10% off. Offering deals like this is what keeps Yolanda's Wedding Favors customers coming back. Customers love knowing that they are getting a great deal on the finest wedding favors available. This is what Yolanda's strives for in their business. Yolanda's is a throwback to the days when customers were number one.
Yolanda's Wedding Favors also offers other gifts as well. They have some of the finest bridesmaid's gifts you can find. From personalized tote bags to elegant spa kits, customers enjoy shopping for items that their bridesmaids will cherish. The bride and groom give gifts and wedding favors to show their gratitude to the guests and people who participated in the wedding. Giving these people something that they will cherish for a lifetime is a great thing. Brides love giving out the crystal rose wedding favors, and the unique bride and groom heart wine bottle stopper.
It is a sure bet that Yolanda's will be taking care of customers for a very long time, and that customers will keep going back. Finding an online store that offers so much in the way of customer service and fine wedding favors and gifts is invaluable. With a guarantee to beat all prices on the items they carry, and free shipping or 10% off of the customer's order, Yolanda's is paving the way in online customer service. Customers enjoy visiting a site where they are still number one.
###