DUECO Inc. Expands Support with New Facility at Thomasville, PA, a New Service Manager and Aftermarket Sales Specialist
Mike Charles to Oversee DUECO Service Centers in Thomasville, Pennsylvania and Medina, Ohio, as Greg Adler Assumes a New Position to Expand the DUECO Aftermarket Business.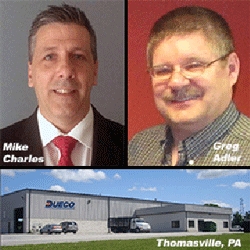 Waukesha, WI, September 06, 2013 --(
PR.com
)-- DUECO, Inc. the largest privately owned provider of Terex Utilities Hi-Ranger bucket trucks, digger derricks, cranes, stringing and tensioning, backyard equipment and utility trailers in the country is pleased to announce it has moved into a 22,500 sq. ft. service facility in Thomasville, PA, just 12 miles from its former facility in York, PA. The company relocated to the Thomasville facility April 1 to accommodate growth and be even more responsive to customer needs. The facility has easy access and plentiful yard space. DUECO also announces the appointment of Michael Charles as Eastern Region Service Manager, replacing Greg Adler. Adler is returning to Waukesha, Wisconsin headquarters in a new role as DUECO Aftermarket Sales Specialist.
Mike Charles, newly appointed Eastern Region Service Manager, will be based at the new Thomasville, PA facility, where he will provide direction for growth in the service business throughout the East Coast area and the Midwestern area supported from the Medina, Ohio service center. He previously served as Regional Aftermarket Business Manager at JCB North America; Director of Parts, Service and Warranty for The Reading Group; Aftermarket Manager for Terex Corporation; and Parts Sales Manager and Eastern Parts Sales Manager for McNeilus Companies, an Oshkosh Corporation. He is an avid hiker and history buff and enjoys spending time with his wife and four children. Charles commented, "I'm excited to be part of an organization that prides itself on being customer focused and customer driven. I look forward to applying my skills and expertise to further grow, develop and accomplish DUECO's goals in the Eastern Region."
Greg Adler, Aftermarket Sales Specialist, assumes responsibility to further expand the service, training, parts, tooling and accessories offering to the utilities, tree care and signage markets. Adler has 33 years of service with DUECO and recently led the planning and execution of the move to the significantly larger service facility in Thomasville after leading the service team for 9 years at the York facility. Adler has also served as Installation Supervisor and Midwest Service and Parts Manager during his career with DUECO. Adler looks forward to returning to Waukesha, where he will enjoy spending time with family. He noted, "I'm looking forward to this new and uncharted experience at DUECO where I can apply my expertise to help build new relationships and expand DUECO's reach into the aftermarket utility field."
DUECO, Inc. is the largest provider of Terex bucket trucks, digger derricks, and cranes for the utility market in the nation. DUECO also manufactures hybrid utility trucks and custom utility truck bodies and distributes mini derricks, aerial lifts, stringing equipment and trailers. Family owned and operated since 1955, DUECO's philosophy of teamwork, integrity, and open communication with customers and employees ensures high quality equipment at the best value. With headquarters in the Metro Milwaukee area, DUECO services customers 24/7 in fifteen states. To learn more about DUECO and what the company can offer, please call us at 800-558-4004 or visit us on the web at dueco.com.
Contact
Dueco, Inc.
Louise Hermsen
800-558-4004
Direct Email: louise.hermsen@dueco.com
Direct Phone: 262-547-8500 x8212
Company Twitter: www.twitter.com/Dueco

Contact