Aromatherapy Gift Line Sheds Humorous Light on Modern Therapy
A new gift line of 19 pure-burn, soy blend aromatherapy candles with such names as Panic Attack™, Quick Fix™, Chill Out™, Co-Dependent™, and Therapists Choice™, has been introduced by Aromatherapy Interventions™, a Newport Beach, CA., company. The line is based in aromacology, the science of scent. For more information call 800 659 8770 or go to: http://aromatherapyinterventions.com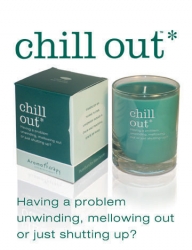 Newport Beach, CA, September 10, 2007 --(
PR.com
)-- A new gift line of 19 aromatherapy candles with such names as Panic Attack™, Quick Fix™ and Chill Out™ has been introduced by Aromatherapy Interventions™, a Newport Beach, CA company.
"The candles are based in serious aromacology, the science of scent," says John McKee, CEO, "We just had a little fun with it."
Citing Frankincense as an example, McKee notes the scent has long been associated with inner peace. "We recommend it for unfounded panic attacks." Pointing to the Panic Attack™ package he reads: "Aromatherapy for general fears of job loss, computer viruses, blind dates and weapons of mass destruction."
The line of 19 candles includes Unwedded Bliss™ with fig leaf and lime, Birthday Acceptance™ with essence of sandalwood and patchouli, and Workaholic™, an uplifting mint and citrus blend devoted to those who'd like "to work 24 hours a day, 8 days a week."
The complete product line can be viewed at: www.aromatherapyinterventions.com
The Aromatherapy Interventions web site also provides wholesale order information to the trade, description and content of each candle, and a display of the merchandising program.
Aromatherapy Interventions™ is a California based company producing hand-poured aromatherapy candles: all scents, glass, cotton wicks, soy wax, packaging and printing are solely derived in the USA.
Contact:
John McKee, 800 659 8770
Fax: 800 659 3242
Email: john@aromatherapyinterventions.com
http://aromatherapyinterventions.com
###
Contact
Aromatherapy Interventions
John McKee
800 659 8770
aromatherapyinterventions.com

Contact