Mafia Book Portrays the Deviant Face of Sex, Drugs and Violence
J L Hill opens the doors to a true understanding of cultural diversity in a world where greed, lust and crime are considered virtues. A raw in your face story of teenage love, murder, and revenge. Set in the Bronx in the early seventies, the cold business world of organized crime melds with the brutality of street gang warlords that ignites a winner takes all battle for underworld control.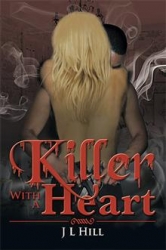 New York, NY, September 07, 2013 --(
PR.com
)-- Compelling and stimulating, "Killer With A Heart" is an action-packed suspense thriller that illustrates the dark and dangerous world of street crimes and violence. Written by author J L Hill, this groundbreaking work allows readers to hang on to the edges of their seats. With an eclectic blend of romance, deception and seduction set in the elusive and complicated world of mob rule, this story leads one out of the complacency of ignorance and sets awareness on what truly goes on in an unconventional world, where money, power, and vengeance become the ultimate dictator of human survival.
With a fascinating set of diverse characters, this story reflects how interracial influences come into play in a setting where connections and alliances are put on high regard. This work shows how people of different backgrounds can come together for a common goal, demonstrating how they forge a true friendship at a time when interracial relations were taboo.
Bringing out the emotions from within its readers, "Killer With A Heart" showcases one man's quest for vengeance, his undying passion to punish those who took the life of the woman he loves at any cost. In this work, readers will also explore the workings of criminal masterminds struggling to rise up to power and how in the world of mob rule, everything is not what it seems.
Killer With A Heart * by J L Hill
Publication Date: April 5, 2013
Trade Paperback; $ 19.99; 252 pages; 978-1-4797-9549-9
eBook; $ 3.99; 978-1-4797-9550-5
Order from your local bookstore,
or call 888-795-4274 x 7879,
or order online.
About The Author
J L Hill is a native New Yorker, born and raised in the Bronx. He spent his adolescence years in Fort Apache, the South Bronx 41st precinct during the 60's. Being raised on blues, soul, and rock and roll gave him the heart of a flower child. Being educated by the turmoil of Vietnam, Civil Rights, and the Sexual Revolution turned him into a gladiator. Realizing the precariousness of life gave him an adventurous outlook to try anything once, and if it did not kill him, maybe twice.
12 years of Catholic education and a couple of years in college spread between wild drug induced euphoric years, which did not kill him, gave J L Hill an unique moral compass that swings in any direction it wants. A scientific mind and the spirit of nothing is impossible if you want it bad enough guides his writings. He enjoys traveling to new places and seeing what life has to offer.
Married with six kids, nine grandchildren keeps him on the go.
Now lives in Virginia Beach.
Contact
jlhill-books
James L Hill
757-692-2524
www.jlhill-books.com
To request a complimentary paperback review copy, contact the publisher at (888) 795-4274 x. 7879. To purchase copies of the book for resale, please fax Xlibris at 812-355-4079 or call (888) 795-4274 x. 7879.
For more information contact Xlibris.

Contact