Crowdfunding Movie Director Will Consider Suicide on September 10th
Toronto-based movie director DW Gordon, who is attending the Toronto International Film Festival (TIFF), is trying to raise awareness for International Suicide Prevention Day on September 10th with an Indiegogo Crowdfunding campaign entitled: Stop the Stigma of Suicide.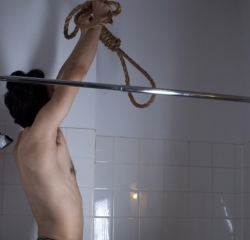 Toronto, Canada, September 08, 2013 --(
PR.com
)-- But He Worries That Others Won't be Thinking About Suicide
Toronto-based writer/director DW Gordon will be thinking about suicide a lot on September 10th because it is International Suicide Prevention Day and he is hoping to crowdfund the release of his movie about suicide. The theme of the day this year is stopping the stigma of suicide, and Gordon's campaign on Indiegogo follows this lead and is entitled:
Stop the Stigma of Suicide
.
"There are two Cory Montieth movies being promoted at TIFF, and yet, there is still almost no discussion at all of his suicide or the reasons for it. Maybe on the 10th people will take a few minutes out to think about that," says Gordon who also produced and self-financed his movie which is entitled I Hate Toronto: A Love Story. He goes on to say, "Our movie, I Hate Toronto: A Love Story is award nominated and it gets standing ovations when we show it, but it's still hard to get attention for such a movie, but I'm hoping our crowdfunding campaign will change that," says DW Gordon.
Gordon goes on to say that he's concerned that here in Canada and at TIFF we're not making and promoting important movies that make a difference. He adds, "Yes, hockey musicals make a critical contribution to our culture, but I think a movie about suicide, like mine, is just as important."
More Information:
DW Gordon - Grand Slam Pictures - dw@grandslampictures.com
ihatetorontomovie.com -- Mobile: 647-238-5425
Contact
Grand Slam Pictures
DW Gordon
647 238 5425
www.grandslampictures.com
ihatetorontomovie.com

Contact