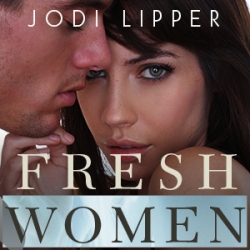 New York, NY, September 12, 2013 --(
PR.com
)-- In her inspiring line of girlfriend-to-girlfriend self help books, Jodi Lipper helped redefine the term "Hot Chick" as a confident young woman who knows what she wants and isn't afraid to get it. Now Jodi has released her first novel through Heyday Productions, which will appeal to her New Adult readers in a brand new way. In "Fresh Women," Jodi tells the story of Cate Davis, who is a virgin when she arrives at Barnard, the prestigious women's college in New York City. At Barnard, Cate believes that she'll finally be free to study great literature and the history of her gender without the constant disruption of some horny adolescent saying that he likes her "top" when he really means her breasts. Cate is innocent, trusting, and maybe a bit too naïve, but she's smart, sassy, and determined to use these years to discover who in the world she is meant to be.
At first, Ani Wright seems to be Cate's exact opposite – a spoiled party girl who uses her sexuality and connections to always get her way. But as Cate and Ani connect over the same class and the mysterious professor who teaches it, the two girls grow closer than either one ever expected. Soon, Cate is left wondering if Ani is her best friend or her worst enemy, and it seems that diving head first into Ani's tantalizing new world of sex, passion, and backstabbing is the only way to find out.
"Fresh Women" tackles themes such as friendship, sexuality, competition, lust, and love in the fast-paced, humorous tone that Jodi Lipper is well known for.
Jodi Lipper is the co-author of the bestselling "Hot Chick" book series (How to Eat Like a Hot Chick, How to Love Like a Hot Chick, and Live Like a Hot Chick) and co-founder of Heyday Productions along with actress and writer Cerina Vincent. These inspiring, girlfriend-to-girlfriend self help books are sold throughout the world, translated into half a dozen languages, and have been featured on the Tyra Banks Show, Extra!, Good Morning America Now, and in Jodi's regular appearances on NBC's Today Show. Jodi's writing has also been featured in Time Magazine, Seventeen Magazine, Cosmopolitan Magazine, Essence, OK Magazine, USA Weekend, Star Magazine, Women's Health, In Touch Weekly, the Huffington Post, Maxim Magazine, Complete Woman, Galtime, Pop Sugar, and many other print and online publications. Jodi is also a prolific ghostwriter who has collaborated with numerous experts and celebrities on books in a wide variety of genres. She lives in Manhattan with her husband and two young daughters. "Fresh Women" is her first novel.
"Fresh Women" on Amazon: http://www.amazon.com/dp/B00F2OTKYQ
"Fresh Women" at Barnes & Noble: http://www.barnesandnoble.com/w/fresh-women-jodi-lipper/1116864345?ean=2940148497226
jodilipper@gmail.com
www.jodilipper.com www.jodilipper.wordpress.com