Worcester Fitness 5K Produces $5,000 Donation for Planting the Seed Foundation
Worcester Fitness held its first 5K road race on Thursday August 15. The race generated a $5,400 donation for Worcester's Planting the Seed Foundation.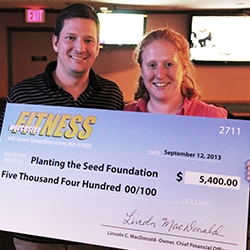 Worcester, MA, September 13, 2013 --(
PR.com
)-- Worcester Fitness, the leading independent health, fitness, and wellness provider in Massachusetts, announced today the financial results of it's recent program to support Worcester's Planting the Seed Foundation.
The program, Worcester Fitness 5K, was a fully sanctioned and certified 5K road-race held on Thursday August 15 in Worcester, Massachusetts.
Over 400 people attended the event with a race field consisting of 310 participants.
On Thursday, September 12, Worcester Fitness presented Planting the Seed President Molly McCullough with a check for $5,400 as a result of success of the race.
"We could not be happier with the results of this event," said board member and Worcester Fitness Controller Andrea Shliapa, "we are looking forward to doubling the participation in 2014!"
Planting the Seed Foundation is a 100% volunteer, non-profit, charitable organization dedicated to improving the lives of homeless children and their families.
Nearly all proceeds and donations go towards meeting the needs of homeless, displaced and low income families leaving shelters and establishing themselves in the Worcester community.
Contact
Worcester Fitness
Joe Santa Maria
508-726-4217
www.worcesterfitness.com

Contact