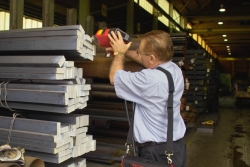 Houston, TX, October 11, 2013 --(
PR.com
)-- Premier Rental organization, PMI Rental - strategic US partner to SPECTRO Analytical Instrumentation (a leading German manufacturer of precision elemental analysis solutions) - is pleased to announce the addition of the SPECTRO iSort OES analyzer to their rental product portfolio of mobile and portable metal analyzers for the North American PMI (Refining, Chemical, and Metal inspection) Market.
SPECTRO iSort - Portable Handheld OES Analyzer
Light weight and user friendly, the handheld OES SPECTRO iSort enables the fast sorting, identification, and analysis of a wide variety of metals and their alloys, including Carbon Steel. It requires neither argon nor a x-ray source, and has a smart touchscreen probe, consequently resulting in simple user operation and accurate results within a matter of seconds. In the area of Positive Material Identification (PMI), the SPECTRO iSort has proven to be impressive in its ability to accurately and quickly grade and provide the elemental composition, including Carbon, of Iron and other alloys in the field, at various depths, heights and temperatures.
The SPECTRO iSort is backed by user training, consulting, and service support of the highest standard. PMI Rental also offers the option of the rental of the Mobile SPECTRO Test, Mobile Metal Analyzer for more demanding OES applications, and the SPECTRO xSort, Handheld XRF Analyzer, for portable metal screening applications.
Press Release Video:
http://youtu.be/c7bXkenYgMs