Casting Hub Kid Signs with Same Management Company that Represents Major Hollywood Stars
Olivia Barragan has signed with both Exxcel Model and Talent and Luber Roklin, just 2 months after joining CASTINGHUB.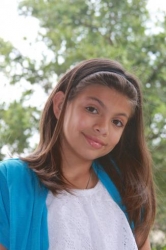 Austin, TX, October 17, 2013 --(
PR.com
)-- At just 11 years old, Austin native Olivia Barragan has achieved more than most up and coming actors can only dream of by signing with not one, but 2 giant industry professionals. Both Exxcel Model and Talent and Luber Roklin have recognized Olivia's natural talent and her natural love for the stage. Olivia's good luck started two months earlier when she auditioned for Casting Hub, a commercial networking company, and it was with the help of Casting Hub that Olivia's career has now skyrocketed.
Olivia has already gotten a taste of the spotlight playing Juliet in a rendition of Romeo and Juliet and excels in dance as well, participating in The Nutcracker. When she isn't on stage she still keeps busy standing out in sports like Baseball, Basketball, Bowling, Gymnastics, Snow ski, Ice skate, Jump rope, Roller-blade, Softball, and Swimming.
Exxcel Model and Talent is a national agency; "a full service model/talent agency representing models of all types such as female/male fashion, commercial print, child and plus size. Talent representation includes actors for film, television, commercials and theater, as well as singers and dancers" (Exxcel website). The agency believes in giving a chance and it with that chance Olivia will have a great shot at success.
Olivia also has major Hollywood Management company Luber Roklin on her side. For those who aren't familiar, Luber Roklin Entertainment is a prestigious management company that represents actors, writers and directors, and has a music division/distribution deal with Warner Music Group. The company has also ventured into production and has producing credits on several films including "Evan Almighty" starring Steve Carell, and the box office hit "Bride Wars" starring Kate Hudson & Anne Hathaway. Luber Roklin also put a then client, Taylor Lautner, in the movie "Twilight."
For more information on Casting Hub discoveries visit: www.castinghubreviews.com
CASTINGHUB is a commercial networking service designed to assist those seeking opportunities in modeling, acting or other careers in the entertainment industry to get exposure, networking resources and research tools for its exclusive members. CASTINGHUB has cultivated relationships with prominent talent and has also created the most sophisticated and dynamic online platform in the industry.
Contact
CASTINGHUB
Anisa Samarxhiu
877-591-7020
castinghub.com
Social Media/PR Manager

Contact