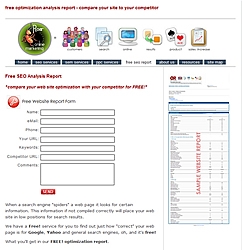 Melbourne, Australia, September 18, 2007 --(
PR.com
)-- The free SEO report is a detailed look at what a search engine reads on a web page. The report indicates the changes to be made to help increase that pages visibility ranking when a search is made for a specific keyword.
The keyword and page analysis is also compared to a competitor to aid in identifying the competitor's strengths or weaknesses in relation to search engine rankings.
In the Advanced Analysis section of the SEO report crucial issues such as java script tags, stop words and how many internal links are assessed and also compared.
Further SEO issues are also identified, General Page Properties (How many words are on the page, headings, text links)
On the Page Factors influencing rankings (Keyword Density for the page content, title, description and keyword meta tags)
The information detailed is comprehensive and relates directly to the pages optimization efficiency, the effects of and the changes that should be made to enhance rankings.
The Free SEO Report is delivered via email attachment in a .zip file format and can be extracted to a HD folder of choice for offline viewing.
Free SEO Report:
http://www.antroar.com/free-optimization-analysis-report.html
###