DealNews.com, Inc., a Leader in Web-based Shopping, Raised Over $107,000 for the American Red Cross Katrina Relief Fund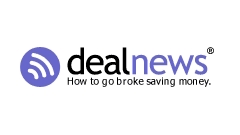 Huntsville, AL, August 06, 2005 --(
PR.com
)-- DealNews.com, Inc., a leader in web-based shopping, raised over $107,000 for the American Red Cross Katrina Relief Fund. $57,000 came from donations by dealnews' readers, while $50,000 came from dealnews itself. But that is not the whole story.
On Friday, the day before the Labor Day weekend, dealnews announced on its dealnews.com and dealmac.com web sites that it would match contributions up to a maximum of $5,000. The donations starting rolling in immediately. "The response to this was staggering," said Dan de Grandpre, dealnews' president and CEO. "By Tuesday morning, the day after Labor Day, we had accumulated over $46,000 in reported donations. I didn't see anyway we could leave our commitment at only $5,000 given the huge generosity from our readers."
dealnews announced that it would match up to $50,000 Tuesday morning, a 10x increase. By Tuesday at 5 pm, readers had donated over $57,000. The total raised, including dealnews' match, stood at $107,392.
dealnews did a similar fundraiser during the tsunami disaster earlier in the year, raising over $35,000 for UNICEF's Tsunami Relief Fund. "If our little 13 person company is able to make this kind of impact, imagine what larger companies could do if they take the initiative," said de Grandpre.
"Our readers are very loyal, with over ninety percent of our daily traffic coming from repeat visitors," said John Allen, dealnews' director of marketing. "Our readers obviously have tremendous hearts, and we stand in awe of them and their generosity."
About dealnews.com, Inc.
Relying on thousands of monthly reader submissions and expert editorial research, dealnews.com reports on the best deals with dealcoupon.com providing a huge list of web
coupon codes
usable at hundreds of online stores and dealmac.com providing hardware and software bargains just for Apple Macintosh users. In addition, dealnews' dealram.com, dealink.com, and dealcam.com sites are product-focused comparison search engines. Launched in 1997, dealnews' services are nationally recognized and have achieved award and recommendations from The New York Times, PC World, Computer Shopper, The Washington Post, ZDNet, and many others. dealnews is a privately held corporation headquartered in Huntsville, Alabama.
###
Contact
Allison Dawn PR
Allison Kugel
516-942-0264
www.dealnews.com

Contact