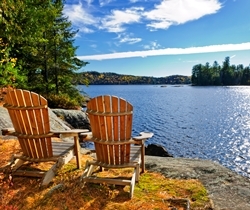 Mansfield, MA, December 10, 2013 --(
PR.com
)-- More than just a roof over their head, a growing number of home buyers have greater expectations of their new home. Buyers are seeking a higher quality of life in a house and location that more suits their lifestyle desires.
Rather than talking about bedrooms and bathrooms, home buyers are asking a different set of questions such as: What experiences do I want to have there? What do I envision my day to day life like? How will my quality of life improve? Can I experience more of the events that bring joy in my life?
Karl Giberson and his wife Myrna purchased a home on Lake Manchaug in Sutton, Massachusetts in November of 2012. "We wanted a location more in line with how we wanted to live our life," said Karl, a professor and author. "Over the past 12 months, reading & writing by the lake has been a true joy for me. We have entertained friends, created new family traditions and roasted marshmallows by the fire pit. The lakefront life has been a tremendous experience for us…and it will only get better."
"Home and location choices are becoming just a means to an end," discussed Carl Sack, Sales Associate at Four Seasons Sotheby's International Realty in Meredith New Hampshire, "The trend is for buyers to start their search with the end result (lifestyle) in mind. So much so, the Sotheby's main website allows searching by specialty markets."
Lake homes are just one of the many lifestyle specialty markets that buyers are choosing from. Some are based on location, some are based on hobbies. The can include golf resorts, oceanfront properties, mountain views, green & sustainable living, planned communities, farm & ranching, skiing, historic homes, tiny houses, vineyards & wineries, etc. All of which provide buyers the ability to experience a unique life rather than just exist in a house.
"Buyers should demand more from their house and location," said Scott Freerksen, Owner/Broker of Lakefront Living Realty, LLC, a New England lakefront property real estate Brokerage. "Our buyers talk about wanting a transcendent connection to their place of living. Some use the word spiritual, others say it's just another step toward true happiness."
Either way, it's a trend that will continue to grow and will be heavily influenced by the perpetual adoption of social media. Susan Finn, a social media marketing expert added: "It's a self-fulfilling prophecy…the more people share their day to day lives on social media, the more they desire a life that is worthy of sharing."
About Lakefront Living Realty, LLC
Based in Mansfield, Massachusetts, Lakefront Living Realty, LLC is a full service real estate brokerage specializing solely on the purchase and sale of direct lakefront property in Massachusetts, New Hampshire, Connecticut and Rhode Island. Owner Scott Freerksen "The Lake Guy," a Real Estate Broker and Realtor, founded Lakefrontliving.com in 2003 as way to passionately unite buyers and sellers of direct New England lakefront property. For complete information, please visit
www.LakefrontLiving.com
, call Scott at 508-377-7167 or e-mail at info@lakefrontliving.com