Save Employer Time and Money, Take EzPaycheck 2014 Payroll Software for a Test Drive
HalfPriceSoft.com welcomes businesses who need an easier and faster method of handling payroll in Year 2014. New features of ezPaycheck payroll software increase user-friendliness and ease of use.
Miami, FL, December 12, 2013 --(
PR.com
)-- HalfPriceSoft.com (http://www.halfpricesoft.com), the leading provider of small business payroll tax solutions, is pleased to launch the new 2014 ezPaycheck Small Business Payroll software. Designed with simplicity in mind, this payroll software is easy to install, setup and use for first-time payroll software who may not know more about accounting and computer. The newly released version include:
- The new 2014 Federal income tax tables
- The new 2014 State income tax tables
- The latest W2 and W3 Forms for the coming 2013/2014 tax season
Priced at just $89 per installation, ezPaycheck payroll software is affordable for any size business. To speed up year-end tax reporting, halfpricesoft.com also lauched special offer for new customers who want to start payroll software in December. New customers can get ezPaycheck 2014 at just $1 if they purchase ezPaycheck 2013 at the regular price.
Small Businesses looking for ways to save money on payroll processing and tax reporting can try out ezPaycheck payroll solution free for 30 days from http://www.halfpricesoft.com/payroll_software_download.asp, with no obligation and risk.
Despite its simplicity and ease of use, business owners should not mistakenly think ezPaycheck 2014 is short on features. ezPaycheck 2014 is packed with all the features a small business needs to run payroll quickly and easily, including:
- Prints payroll checks on blank computer checks or preprinted checks.
- Automatically calculates Federal Withholding Tax, Social Security, Medicare Tax and Employer Unemployment Taxes.
-Includes built-in tax tables for all 50 states and the District of Columbia.
- Creates and maintains payrolls for multiple companies, and does it simultaneously.
- Supports Daily, Weekly, Biweekly, Semi-monthly and Monthly payroll periods. Features Report Functions, Print Functions, and Pay Stub Functions.
- 30 day free trial. No registration required and absolutely no obligation.
When recently interviewed, Dr. Ge stated, "ezPaycheck payroll software is so flexible that it easy manages any combination of incomes, deductions, taxes and benefits, even commission payments, restaurant tips, local special taxes, and churches and non-profits. Offering customers the best when it comes to their payroll needs is a number one priority for HalfPriceSoft.com."
To get more information about how halfpricesoft.com and ezPaycheck payroll software are helping small businesses achieve a faster and easier method of handling their payroll needs, visit the site at: http://www.halfpricesoft.com/index.asp
About Halfpricesoft.com and ezPaycheck payroll software
ezPaycheck is developed and distributed by Halfpricesoft.com, a Louisville, Ky.-based firm committed to creating affordable and easy-to-use financial software for small businesses. Additional small-business payroll software titles available from Halfpricesoft.com include w2 1099 software, check printing software, employee time tracking software and barcode printing software.
Contact
Halfpricesoft.com
Casey Yang
502-259-0936
http://www.halfpricesoft.com/index.asp

Contact
Multimedia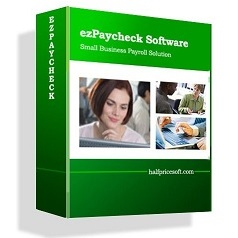 ezPaycheck software speeds up payroll processing for small businesses.